---
---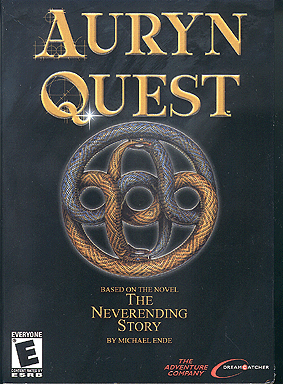 Auryn Quest
Ages: Everyone but more likely 10+

Who wouldn't want to be Atreyu. The mere sound of the name brings one back to the Neverending Story - about a boy who saves the land of Fantasia from vanishing. The game is described as an adventure/arcade. I wish they had left the last part out. The game has beautiful, somber graphics that put you in the mood of the story and there are locations and characters that are related to the original. The environments are rendered in true 3D so you can freely wander. There are six locals where you pursue your quest by solving conundrums – Mountain of Destiney, Gaya's Lava Dungeon, Song Tree Country, Urwerk, Wandering Mountain and Labyrinth of Time and a "sparkley transporter" to get from one to the other. This is the good part – the adventure. I feel differently about the arcade part. The current style – and it seems to be in almost every game – involves jumping onto moving platforms. There are a lot of platform in this game and they are hard. I ached after getting through a bunch of them. Your game is automatically saved at checkpoints, indicated by a glowing white star. These are restart (respawn) points, should you, and you will – die. This way you have unlimited lives. You must collect five yellow energy balls in each level before you can proceed to the next. However, you need to collect all ten balls in each level if you plan to continue to the final level – The Labyrinth of Time. I think this is a crummy way to extend the game play.
Editor Review 10/02
The game was fun. It had a good theme and the characters are unique. But there needs to be some changes. For example:
There needs to be a map. I went around in circles for a long time and had no idea I was until a half hour had passed. When you meet the stone guy he should give it to you so that you know where you have been, where you haven't been and where the energy balls and other things/people are.
Also it's kind of hard to see since it's always so dark. I know that it would seem weird to have a bright world in a place that's surroundings had basically been devoured by The Nothing, but I can barely see.
Also there needs to be a way to save your game without having to find a check point, and you should be able to quit the game without going back to the temple, because it always un-saves the game. The designers of the game should hire another person to scream when you kill a life, the one they used is too bone-chilling, (and it sounds too much like a grown man. It should be someone around the age of the person who is playing it, which would probably be about 10-13.)
The 3rd brother needs to be easier to get to. I found the way to him one time, but never found it again.
Reviewed by Autumn A.
Auryn Quest
&copy Dreamcatcher Interactive $19.99
Windows 98/Me/2000/XP
To Order: http://www.amazon.com