---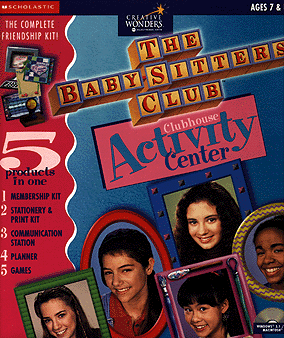 The Baby-Sitters Club Clubhouse Activity Center
Ages 7+
This product offers you a lot and delivers it. There is a club for you to join and there are lots of activities. The members of the club are those teen age girls that have been populating Ann Martin's popular series of book since the 80's. I stopped counting titles after the 116th one.
The core of the activities centers around Claudia's room. There are organizational activities - an introduction to the kind of activities grownups do all the time. A daily planner with alerts to activities, an address book, forms for baby-sitting, a stationary producing kit which will produce fancy cards, decorated stationary, business cards and tickets and posters for events. You can even make those signs with tear-off telephone numbers. There are over 200 combination in the stationary kit. I haven't tried them all.
If you are not familiar with the BSC (Where have you been?) there is a file which will provide you with the backgrounds on Stacey, Claudia, Jessie and the rest of the Club members. A digital clock has the right time (a nice touch) and the phone rings occasionally and with messages from the members. Remember to fill out the personal data file. It is the basis for letters that mysteriously appear addressed to you on the dresser.
The 'sign-in' roster has room for your best friend to join you when you visit the club. You can send greeting cards to your friends through the BSC's Internet option. A cool way to send Valentines, birthday cards or whatever. Oh - and there are a couple of puzzle games you can do but mostly it's a place to hang out - and enjoy getting organized.
Reviewed by Maryanne
The Baby-Sitters Club Clubhouse Activity Center. $29.95
(TM) 1997 Creative Wonders
Hybrid CD-ROM: Windows 3.1/Windows 95 and Macintosh