---
---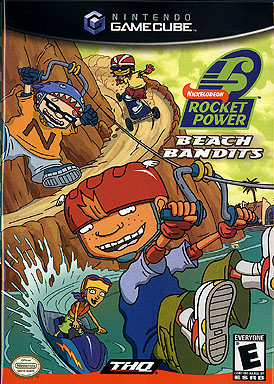 Rocket Power Beach Bandits
Ages: Everyone 6+

The environment in the game mirrors the TV show, Rocket Power. The graphic details are extremely exact. The voices of the characters are the same as well.
Your mission is to find out who stole the sand from Ocean Shores, and return it. You can choose what character you want to be and your vehicle, such as blades, skateboard, etc. If you get enough gold coins, which you can win by overcoming challenges, you can unlock different characters such as Lars and Pi. There are 50 levels and challenges such as a skateboard contest, collecting masks for Eddie, Prince of the Netherworld, and the Shooting Gallery.
I thought this game was interesting because it is so much like the TV show. It's really hard to make a good game out of a movie or show and this one, in my opinion, did a very good job. It gets frustrating during the challenges and you think it's impossible, and it's impossible, and you have to do it a few times to get the hang of it. I really liked this game and I think its great for all ages.
Reviewed by: Micah M. age 12 - 01/03
Rocket Power Beach Bandits
&copy THQ $39.99
PlayStation 2
To Order: PS2 http://www.amazon.com