---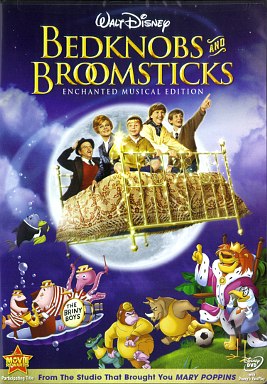 Bedknobs and Broomsticks
Ages: General Audience

Do kids even know what a bedknob is in these days of futons? Made in 1971, there's an overlay of seriousness in the tale about a mail-order apprentice witch who, during the time of extreme bombing of London, had to take the responsibility of sheltering three children in her home. The Cockney orphans soon get onto Angela Lansbury's secret avocation and decide to stay for the fun.
Eglantine has the most honorable intentions - to use her magic to ward off the Germans. To do so, she must complete her course of studies, but unfortunately the witchcraft school has closed shop. With a little bit of magic and a flying bed, all go off to find Mr. Browne the headmaster, only to find that he is a huckster, a fraud, doesn't believe in magic and doesn't have the information for the last lesson.
The rest of the story becomes even more fantastic - traveling to a children's storybook land where they waltz underwater with the fish and play an outrageous game of soccer with the king of Naboombu. I didn't realize that this early, the movie art had developed to the point where live actors could interact with cartoon characters - this was before the computer generated stuff that we are used to seeing. The final scene with an animate army of antiquated armor fighting off the Germans is a rousing finale to a fun film.
The music and songs are very haunting - particularly with the sequence of "Portobello Road", a street where everything can be bought or sold. It is Mr. Browne who sparks the colorful multi-ethnic dances sprinkled with soldiers and sailors.
The movie has been restored from the cuts made to shorten the running time - it is now 139 minutes, and not a dull moment. Angela Lansbury, looking so young, sings, dances and rides a broom. David Tomlison, Mr. Browne sings well but looks more fatherly that a romantic lead should. Anthony Perkins plays a small part as the tightlipped pastor who has eyes on Eglantine - and her house. The kids, Roy Snart, Ian Weighill and Cindy O'Callaghan are appealing, straightforward and without that sticky sweetness that occurs in cute children's roles.
The best of the bonus features shows the collaboration between the Sherman Brothers - a melding between lyrics and melody and a snippet with David Tomlinson, more elegant without his makeup, in a recording session. Several sections including - "A Step in the Right Direction" that landed on the cutting floor are included. I thought it was a wise decision.
While "The Making of…" is always one of my favorite parts of the bonus offerings, this was a disappointment. Having Jennifer Stone from Disney's Wizards of Waverly Place espouse the difference between sodium process and blue screen made me cringe.
Reviewed by: Editor - 09/09
Bedknobs and Broomsticks
&copy Walt Disney Studios
Platform(s): DVD
To Order: DVD http://www.amazon.com/ $17.99