---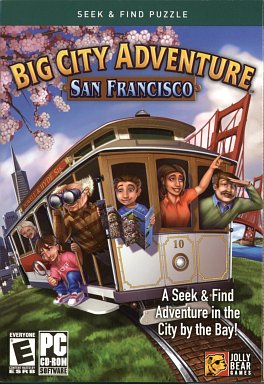 Big City Adventure: San Francisco
Ages: Everyone

This is a seek-and-find game where, in a screen-full of diverse objects, you have to find those items which are listed on the bottom of the screen. There is a time limit - or none if you have checked the "Relaxed Mode – no time limits"
This game uses the various local locations of San Francisco to anchor the game. And Oberon does a good job of displaying the map and then selecting the important sites of the city – Alcatraz, the shopping district at Market and Powell, the Opera house, Mission Delores. Before you can access a new area you have to solve a puzzle – a match 3 game, sorting or an actual puzzle. Once you have solved the entire puzzle, you can go back and play it again – with a new group to find.
This is one of the casual games that have made it into a PC game that you can purchase from a store shelf. This option works for those players who do not want to purchase on the net or have a slow system and do not want/trust downloads. I can see seniors owning a library of such games and playing them as they wish, without an internet connection.
What makes a seek and find game enjoyable? A theme behind the games is good. The hidden objects should be of a reasonable size – no peas. It's nice but not necessary that the color be true – oranges should be orange, not green. When the object is found, a nice animated graphic is satisfying. Background music should accompany but not be intrusive - Big City Adventure: San Francisco has all of these.

Fun Factor: A game plus a great tour.
Player Friendly: Relaxed mode permits playing without time limits.
Reviewed by: Editor - 11/07
Big City Adventure: San Francisco
&copy Oberon Media/Elephant Entertainment
Platform(s): WVISTA XP W2K
To Purchase: Win BestBuy, GameStop, EBGames $19.99