---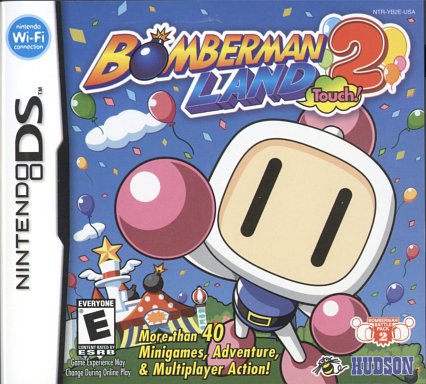 Bomberman Land 2 Touch
Ages: Everyone

Bomberman is a most ubiquitous game - there isn't anyone who doesn't know, hasn't played or owned the game. Bomberman Land Touch 2 is one, two, no - three games, including the old Bomberman so players have many options in how to play the game.
Hudson has spent a lot of effort in making the single player game deep and engaging. Story mode, as opposed to the Battle mode is played solely with the stylus, has Bomberman joined with his colorful friends seeking to uncover the plot by the Evil Bomberman.
Bomberman side scrolls thought the colorful Bob-Bob kingdom, talking to characters, reading mail, solving puzzles and collecting the pieces necessary to pass through the gates into new areas of the theme park. Information booths are located in the entrance of each zone where information is provided on the new zones and tokens can be exchanged for items. This complex system of equipment, tokens and equipped items are accessed by the Bomb Pad.
Clowns positioned in front of buildings provide entrance to the mimi-games - over 40 of them. If the player fails at the game, the game will be made easier on subsequent tries - a nice technique to avoid frustration. The mini-games are clever and unusual and in the Attractions Mode you can replay those already cleared.
Battle Mode is completely different, where the object is to drop bombs that blow up your opponent. Power-ups will increase the number of bombs available, extend bomb blast, provide the ability to throw and kick bombs, and to detonate bombs at will instead of waiting for the timer to go off. Hey, I just realized that maybe being a bomber isn't the best line of work these days. There are multiple battle methods and many amusing stages. Action takes place on both screens with tunnels and conveyor belts to keep the play moving.
But basically the game's strength is in the multiplayer version. You can play with up to 8 players via Nintendo Wireless Connection or 4 players via Nintendo WiFi Connection. There is an impressive manual outlining rules, options and tips in 6 pt. type - for young eyes only.
You gotta love a game that lets you boo, scream and clap.

Fun Factor: You gotta love a game that lets you boo, scream and clap.
Female Factor: Cute Pink a token female
Player Friendly: Endless play
Reviewed by: Editor - 04/08
Bomberman Land 2 Touch
&copy Hudson
Platform(s): GBDS
To Order: GBDS http://www.amazon.com/ $28.99