---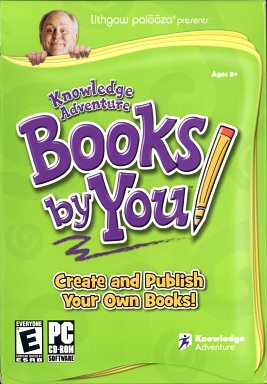 Books by You
Ages: Ages 8+

Knowledge Adventure, a producer of educational games, has created a product to get children – 8 and up – to produce their own books. One of four stories can be created by answering questions about the characters, events and important details chapter by chapter at the beginning. The choices are:
The Alien and the Cheese: A cheese loving alien lands on a goat farm leading to wacky adventures.
The Wailing Alien: When an injured alien crashes to Earth, a kind human helps him survive.
The Mystery of the Monkey Palace: A town is surprised about the theft of a monkey and an unlikely person tries to solve the mystery.
The Case of the Missing Monkey: Which of the several suspects stole the prize monkey, and where is the creature now?
The number of chapters is not specified. The only indication of length is on the box -- 75 to 100 pages. I think this is too long to keep the attention of children who would be interested in the stories presented.
There is no way to print out each chapter separately. Printing is done only upon completion. However, there are explicit instruction on how to finish, personalize and bind your book. There is an option to send away and get you book bound professionally. The charges stated are around $10.00.
Lithgow is a good choice as the mentor guiding the child through the art of writing although he is probably better known to adults than children. He does not talk down to them and is sensitive to not being overly intrusive in his guidance. Its a good idea to get children writing, but this product feels too constrictive. A freer choice would lead to more interest and creativity. Shorter stories would be more appropriate – 75 to 100 pages is the size of a thesis.
Reviewed by: Editor - 12/06
Books by You
&copy Knowledge Adventure
Platform(s): XP MAC OSX
To Order: Win http://www.amazon.com/ $17.99
To Order: Mac http://www.amazon.com/ $17.99