---
---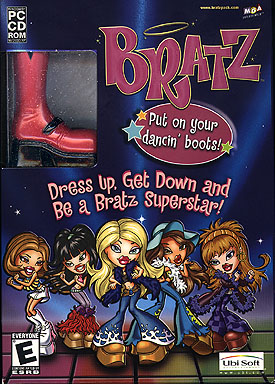 Bratz
Ages: Everyone 6-16

Fun easy and enjoyable. Not exactly what it appears to be. Looks like dress up game but it's really a dance with arrows game you know like Dance Dance Revolution or Britney's Dance Beat.
The Bratz pack Cloe, Yasmin, Sasha, Jade, and Meygan are five over the top deliciously appealing, cute dancers OK Superstars. Their dance moves are something to watch and each one has her own style They look a little like the Diva Stars grown up - pouty lips and low riders.
The game is simple. Click on the moving arrows as they go over the target. Depending on your skill and timing you score either Miss, Good, or Excellent. When you score enough points you advance a level and get either more songs and backgrounds to dance to, new dance steps or new clothes which you just click on to change. Two can play the game at the same time and compete for high score.
The thing that is different about this game is that there is little frustration. You can choose between two levels (a more complex run of arrows), the scoring is easy, the points are cumulative and the rewards of a new levels are frequent. And they though of another thing. When you are playing the game, your eyes are on the arrows you don't really watch the dancing So, the game has a replay option where you can review your dance sequence. A real find for those with a low tolerance for frustration. Me, me, me.
Reviewed by: Editor - 12/02
The people atBratz are geniuses! This dance-groove game is not only fun, it keeps you entertained for hours. Especially if you are in the age range of 6-12. This game has cool beats that will make you tap your feet! You get to discover new moves, new outfits for the five Bratz, and new levels along the way. With every Brat comes a personality, dance-type, and outfit. The only bad thing was that the controls are kinda hard at first to get used to, but despite that it's a great game.
Reviewed by: Autumn A. Age 12 - 03/03
Bratz
&copy Ubi Soft $19.99
Windows 98/2000/XP
To Order: http://www.amazon.com