---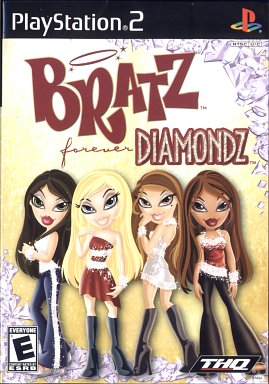 Bratz Forever Diamondz
Ages: Everyone

Bratz – they seem to be more appealing than last year's models. Maybe it's because their faces look less alien-like, perhaps it's because they don't always strike a seductive pose or because their selection of clothes makes them look less tart-like, but make no mistake – these are not American Girl wholesome. But with mom's playing Desperate Housewives it may be a match.
Girls can play any one of the Bratz – Jade, Cloe, Sasha and Yasmin, by just pressing the X button when face to face with another Bratz. They feel basically the same, except that Cloe is the driver of the semi with the fold out fashion runway. The girls travel across the States ending in New York City looking for the hottest new fashion designer. It gives them the opportunity to include new characters – not NPC but not an active character either. The first prize is diamond studded go-go boots. And of course, as the title indicated, there is lots of bling in the designs.
The directional hint system is better, which is important since the girls are constantly shopping around the mall and knowing where the stores are is important to the game. The movement control is still poor, making it difficult to walk straight to a destination. The pet addition is good but if you really want pets Sims 2 Pets is the way to go.
There are fewer choices for clothing in the game – their closets, the stores should be offering loads of designs – shopping and clothing are the main activities of the game. Well, not exactly – you can buy a pet and dress and train it, ice skate and roller blade, put on makeup, make posters, design a tee shirt and work on the magazine. Many of these activities are from the game the year before. Even the villains, Burdine Maxwel and her snooty twins, are the same.
The PS2 and Game Cube versions in fact, feel very much like last year's models. The GBA version is really too small for a game where clothing details are important. I think it is the Nintendo DS that gives the game the freshest feel with its voice input for pet commands and touch screen for designing the clothes and scripting movements like runway practice, walking the dog, dancing, figure skating and more.
Reviewed by: Editor - 11/06
Bratz Forever Diamondz
&copy THQ
Platform(s): GameBoyAdvance GameBoyDualScreen PS2
To Order: PS2 http://www.amazon.com/ $26.99
To Order: GB/GBA http://www.amazon.com/ $26.99
To Order: GBDS http://www.amazon.com/ $26.99
To Order: GC http://www.amazon.com/ $26.99