---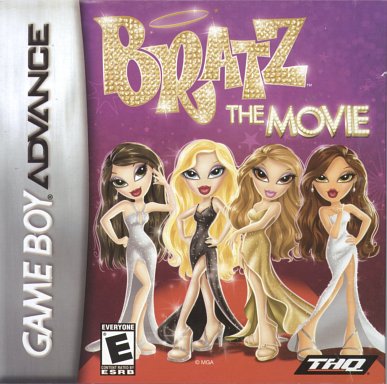 Bratz the Movie - GBA
Ages: Everyone

This is an OK game, but it bears no resemblance to Bratz the Movie on the PS2 or Wii -- only the name and the box art are the same. In this game, the Bratz are spending their summer vacation at the Southerby School of Talents and Artistry. The whole crowd is there, including you know who – the Twins.
The girls learn to polish their skills – new dance routines, jamming on the piano, even acting. It all comes together for the final talent show. Clever mini games involving memory matching, sewing, running to class and catching fireflies add to the game.
The graphics are pretty primitive. As you walk down the school corridors, they drop off into a black void before continuing on another screen. And to save your game, you have to write down a six digit number – I thought we were past that.

Fun Factor: If it's the Bratz you want, pick another platform
Female Factor: Actually the girls are more appealing brought down to pixel size
Player Friendly: Primitive saves.
Reviewed by: Editor - 10/07
Bratz the Movie - GBA
&copy THQMGA Entertainment
Platform(s): GBA
To Order: GB/GBA http://www.amazon.com/ $19.99