---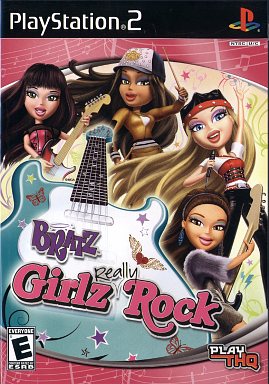 Bratz Girlz Really Rock - PS2
Ages: Everyone

Well they are getting to look less slutty - they even wear sneakers and go to summer art camp where the girls are expected to improve on their talents. Attitude is what's important here, and after missing the bus to camp they take the Bratz jet and skydive into camp. I am not making this up.
Cloe, Sasha, Jade and Jasmine look more doll-like than ever, with their oversized heads on thin neck stalks. I figure it's to make them look more like the product on the store shelves. On the other hand the Cameron and Koby boys are looking less nerdy. This could be a portent of things to come.
Upon appearing at camp the girls launch into a musical bit where you press the different buttons symbols as the patterns scrolls from left to right. The cabin the girls have is equipped with all the comforts of home - make-up vanity, clothes wardrobe, laptop and cell phone for saving. There are music and dance activities - dance this time includes ballet. Mini-golf rounds out the schedule. Lots of people are around to talk to, some give you mini-quests. It doesn't feel like much. The DS is a much more complete game. The PS2 version feels like an afterthought, but they did think to put in subtitles - maybe I'm not the only one that doesn't understand Bratz-talk.

Fun Factor: Only for Bratz fans
Female Factor: These girls are not what I would consider stellar role models.
Player Friendly: Not enough game for the value.
Reviewed by: Editor - 11/08
Bratz Girlz Really Rock
&copy Play THQ
Platform(s): PS2
To Order: PS2 http://www.amazon.com/ $19.99