---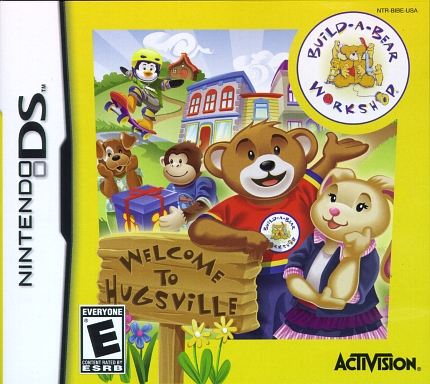 Build-A-Bear Workshop: Welcome to Hugsville (DS)
Rating: E - Everyone

Do not confuse this game with Build-A-Bear Workshop: Friendship Valley for the Wii. While there is some similarity - the town, cottages, and animal friends to play games with - that is where the similarity ends.
Where the Build-A-Bear Workshop: Friendship Valley on the Wii is expansive and feels like a real town - the Build-A-Bear: Welcome to Hugsville on the DS feels cramped and many spaces seem out-of-bounds. There are houses that look like you can enter - but you can't, spaces to plant, but no seeds, areas like beaches and fields where something should be happening, but isn't.
In the Wii version you feel that you are choosing which tasks to do and all of them give you the opportunity of exploring the town. On the DS there are 8 mini-games - maze, tag, racing, planting, treasure finding, gathering gold paws, house building and painting - they become repetitive and soon become tedious.
Players work harder in the Build-A-Bear: Welcome to Hugsville on the DS. The use of the Tool Belt and Seed Pouch for items is confusing. On the Wii version, players simply collect items and automatically use the item when needed.
The goals on the Wii game are short and clearly laid out. The DS game does not have enough instruction, and goals are vague. Bearemy, your guide, keeps telling you that there are still citizens that need your help and to go and try out all the new levels. It is not clear how levels are achieved and there is no explanation as to what you are leveling-up to. I got tired after achieving a motley assortment of levels.
I guess you can see where I'm going. This DS game is a poor imitation of Friendship Valley on the Wii. Both cost the same. If you want a Beary game - buy the Wii version.

Fun Factor: Frustrating, repetitive and tedious
Female Factor: No mention
Player Friendly: Confusing - less than minimal manual
Reviewed by: Editor - Apr/10
Build-A-Bear Workshop: Welcome to Hugsville
&copy Activision
Platform(s): DS
To Order: DS http://www.amazon.com/ $29.31