---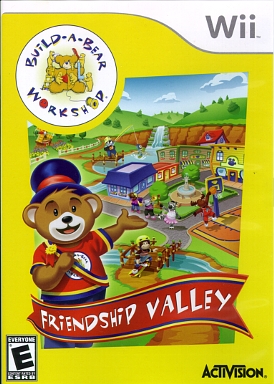 Build-a-Bear Workshop: Friendship Valley (Wii)
Rating: E - Everyone

Players don't really build-a-bear in this game, instead they wander about Friendship Valley, meeting up with its citizens (not all bears) and doing fetch quests for them that cover a wide variety of activities and mini-games. Players start by picking a bear, giving it a heart which causes it to become alive - cute. The bear then wakes up in a nicely furnished cottage - bedroom, bath and dining room. Next, pick out a boy or girl outfit and exit to the town. The first person you meet tells you that the Mayor wants to see you. The game has a nice gimmick for directing the young-uns from place to place. A blue arrow points the way, which turns progressively to green as you get closer to your goal and finally yellow when you arrive. The Mayor asks for your help in doing a task and off you go following the blue arrow. This is pretty much the format of the game played out with different people and different tasks.
There are plenty of places to wander - town square, marketplace, forest, countryside and home, plus many friends to make and things to do. The sound of birds and roosters crowing is pleasant, the graphics are somewhat crude and cartoony but very colorful and in the style of a children's book. I could do without the baby beary talk. Words like furbulous, pawsome, and furever made me cringe. Hopefully it won't make the kids frow-up.
The game uses both the remote and the nunchuk - occasionally players will use the motion function for actions like stirring and twisting. There are a lot of slow screen loads that kids might not notice, but adults will. Saving is automatic, but not mentioned in the manual or in the game - press "Pause" to find it in the menu. If I can lose the progress I have made in this game - kids can too. When you restart a saved game, you are back inside the cottage and then have to find your way back to where you left off - confusing.
During the game, players unlock codes to get "Virtual Stuff" by going to the Build Bear website. It's just a way to get kids to register on their site - I passed it up. Challenge Mode pits up to four players in sports and various activities that are played in the game but now with time limits. The game is good for both the single player and to play with friends. By putting a lot into the game, Activision has made it feel like a real town.

Fun Factor: Nice town to play in
Female Factor: Only the clothing tells
Player Friendly: Needs better save instructions.
Reviewed by: Editor - Apr/10
Build-a-Bear Workshop: Friendship Valley
&copy Activision
Platform(s): Wii
To Order: WII http://www.amazon.com/ $29.99