---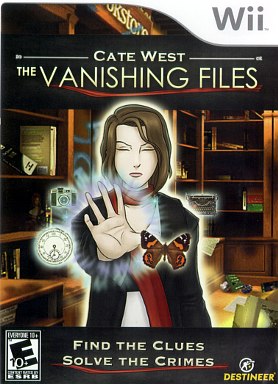 Cate West: The Vanishing Files
Ages: Everyone 10+

There are a lot of these "seek and find" games coming to the Wii that were once the purview of on-line casual games. Skillfully made ones have a good story, art work that is related to the plot, a variety of puzzles to spark the players flagging interest and a dramatic buildup to the conclusion. It's hard to do that with only 2D, no motion and a few lines of text dialog. Cate West tries hard but lacks magic to it.
Each case is divided into five parts: finding clues, finding evidence, confirming the hideout, identifying the perp, presenting the evidence in the courtroom. The structure is good but the puzzle relationship to the mystery is obtuse. Supposedly that is corrected by Cate's psychic visions. But for me, there is too much of a stretch from clues to conclusion. How does a pen and a camera point to the arsonist? The deductive process doesn't get developed because the arsonist confesses.
The Cate West games got their start ot on-line game portals like Big Fish Games - and their popularity is what most likely generated the Wii title. But once I pick up the remote. I want more meat on the bone. The basic structure is good, they have figured out the mechanics of scoring and timing, the magnifying glass should be in every seek and find game - Gamenauts is more that halfway to a great game.

Fun Factor: Good assortment of puzzles.
Female Factor: Cate has visions - I would have preferred a more analytical mind.
Player Friendly: Magnifying glass a great help.
Reviewed by: Editor - 05/09
Cate West: The Vanishing Files
&copy Destineer
Platform(s): Wii
To Order: WII http://www.amazon.com/ $29.99