---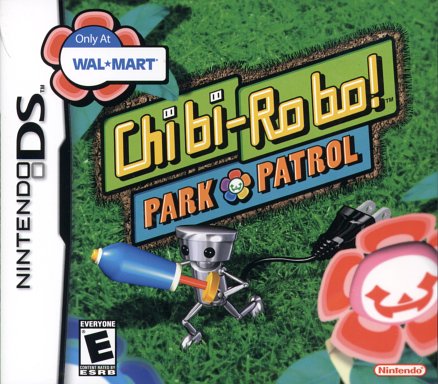 Chi Bi-Robo: Park Patrol
Ages: Everyone

The introduction is lengthy and Chibi-jabber goes on while the text scrolls on the screen telling you how the Citrus-soft corporation has created robots whose mission it is to save and restore the parks by making flowers grow. Chibi-robo is a cute little metal droid, with expressive eyes and a recharge plug for a tail. The tail is important because thats how Chibi restores his energy, by converting Happy Points into Watts. And Happy Points are collected by sprouting flowers and doing good deeds. There is also a Chbi-house where Chibi retires for the night, accesses the computer and recharges, and saves the game.
In the early part of the game you will be sprouting flowers, and for this you will need a boom-box for the music that will cause the flowers to throw off seeds and the squirter to grow the seeds into flowers. You have to spin the disk on the boom-box to make nice music so the flowers will release their seeds. I'm afraid that my music was crummy and I lost lots of points trying for a nice tune. Players will do well to learn how to play tunes, otherwise they will not earn enough energy and will have to make short trips back and forth to the Chubi-House to recharge.
There is lots more to the game. You have to fight off Sgt. Smogglor and his Smoglings but no fear, you will have made wonderful friends and earned Chibi-Vehicles. Chubi can go into town and eventually take on park projects with the computer which will add play equipment, paths, trees – even streams. The status screen is where you can get some sense of the depth of the game with dances, time of day, current friends, picked flowers. On-screen info keeps track of your watts, and happy points. Saves are only done in the Chubi-House after you have recharged.
I have two issues with the game. Since I presume it is directed to the younger set – the instructions should have been better – many things are not obvious. For instance, the touch screen is circled with the explanation – "Power Chibi-Rides, use Chibi-Gear, talk to people, and much more". The Touch screen is divided into a center display grid surrounded by mini screens for storage, vehicles, camera functions - center and zoom map and the necessary Chibi-plug. It deserves a better description. There is a lot to this game and more information would help. If kids are playing - the parents need to help at the beginning. Secondly, the touch screen is used mainly for selection and to accept text or selection. I would have liked more control of Chubi on the touch screen.
It's a fun game, it has more depth to it then at first appearance, and for a change, there are no guns, and the main character and his friends are working at – not saving the world, just making it a better place.

Fun Factor: Would have been even more fun if Chibi didn't have to recharge so often.
Female Factor: Chibi could be female.
Player Friendly: Needs more instruction of in-game help.
Reviewed by: Editor - 10/07
Chi Bi-Robo: Park Patrol
&copy Nintendo
Platform(s): GBDS
To Order: GBDS http://www.amazon.com/ $69.69