---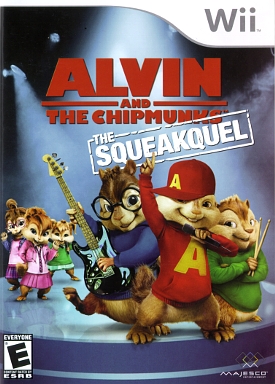 Alvin and the Chipmunks: The Squeakquel - Wii
Ages: Everyone

We haven't seen these guys for two years. A game appears - there must be a movie coming out. The Chipmunks are groovin' and are on a world tour - 25 different themed concerts. Your part in this is to move your arms in three axis - up, down, sideways to match the directional arrows. Three different mini-games are interjected during the main game; catching musical notes, avoiding the equalizer pulses as they move up and down, collecting stars and musical notes while avoiding danger symbols. The game, while not forgiving of sloppy moves is easy to play - amazing!
Songs are surprisingly good, twenty five hits including;
| | |
| --- | --- |
| Tutti Fruti | Funkytown |
| Cold Hearted | Witch Doctor |
| U Can't Touch This | We're the Chipmunks |
| Girls Just Want to Have Fun | Love Shack |
| Macarena | Roam |
The Chipmunks are cute and well animated, plus you get to see the Chipettes who are cuter. Seems to hint that the movie may have a love interest.

Fun Factor: No getting away from it - the chipmunks are cute and they move well.
Female Factor: There's the Chipettes
Player Friendly: Easy following the arrow directions
Reviewed by: Editor - 12/09
Alvin and the Chipmunks: The Squeakquel
&copy Majesco $50.00
Platform(s): Wii
To Order: WII http://www.amazon.com/ $50.00