---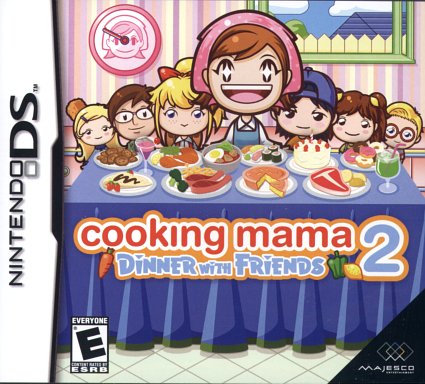 Cooking Mama 2 Dinner with Friends
Ages: Everyone

Finally, a real cooking game. Realistic cooking, mixing, techniques, recipes, even some special Japanese dishes. You can have a cooking contest with friends by selecting "Send Demo" from the Options menu and download the game to your friend. There are different sections depending on skill, cooking and prep techniques. When you "Cook with Mama" you get tips, in "Let's Cook" you are on your own. "CookingContest" is about techniques - cracking and separating eggs, peeling, sifting. The recipes are impressive: Sea Bream Carpaccio, Apple Pie, Eel Rice Bowl, Squid Fried Rice, Panna Cotta, Tokoroten, Escargot, and Meat Loaf for starters. I had to check their meat loaf recipe against mine. They don't give amounts - only ingredients and processes. You don't save a game, but you can store pictures of the foods you make.
In making pizza you start by adding the ingredients in proper order, mixing. kneading, testing the raising dough, punching it down, forming it, putting on sauce, adding and arranging extra ingredients. The only thing that is missing is information on the temperatures necessary for cooking. – maybe next time?
When you follow the instructions pretty well – you are rewarded with new recipes. Who knows where this can end – a new Joy of Cooking?

Fun Factor: Fun and surprisingly informative
Female Factor: All women
Player Friendly: Cook without gettng burned
Reviewed by: Editor - 12/07
Cooking Mama 2 Dinner with Friends
&copy Majesco
Platform(s): GBDS
To Order: GBDS http://www.amazon.com/ $29.99