---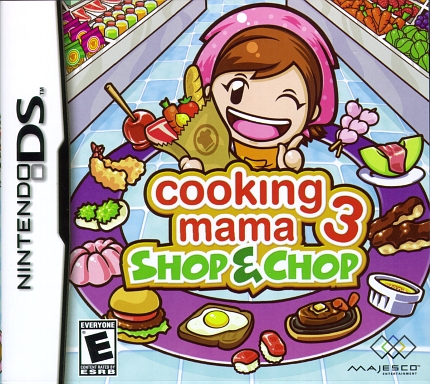 Cooking Mama: Shop and Chop
Ages: Everyone

This game has too much going for it. The opening screen is filled with a 3x3 grid of brightly colored images and Mama says, "Time to choose". The cooking games/lessons start with "Cook With Mama" - easy, with instructions and encouragement; "Let's Eat" - same recipes but without the arrow instructions and you are graded instead of encouraged; "Let's Match" - pick two ingredients, Mama selects the third. Moving on from cooking you have "Let's Shop" - a little confusing as to exactly what you need to get - all meat looks like meat; "Time Challenge" a timed cook off using local Wi-fi to see who all finishes first; "Picture Diary" - pictures of dishes you have made; "Let's Get Fancy" doll up mama; "Change Design" - decorate the kitchen. See what I mean?
Cook With Mama starts out with the following recipes; candy apple, French cruller, pickles, Korean barbecue, baumakuchen, vongole bianco, and fried shrimp. And this is just the beginning. There are over 80 recipes and you can be sure of an International flavor. The game saves automatically. It is a single player game so there is no option for entering player's name.
Often is it confusing as to what to do but the game is so charming and forgiving that you just barrel through - maybe giving it another try. The many food preparation and cooking techniques are described well enough that it could be a beginning cooking primer for kids. For some adults I know too.

Fun Factor: A good balance between play and instruction.
Female Factor: Mama is MAMA
Reviewed by: Editor - 11/09
Cooking Mama: Shop and Chop
&copy Majesco
Platform(s): GBDSDS
To Order: DS http://www.amazon.com/ 27.99