---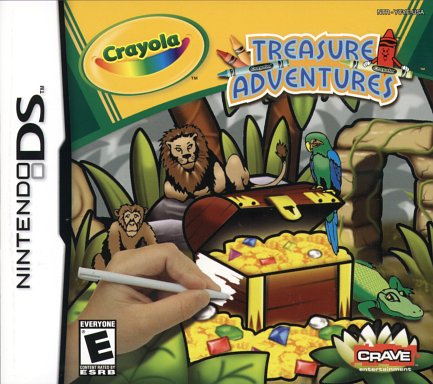 Crayola Treasure Adventures
Ages: Everyone

Oh color, oh glorious color. This giant box of crayons and markers runs to 120 different colors. Don't know how many of you had the giant box of Crayolas but I remember how delicious it was to have them all arrayed in front of me.
The game is clearly for the younger kids – regardless how you scribble – you don't go outside of the lines. There is the requisite story line mode that involves simple jigsaw puzzles – all except one piece is an edge piece; coloring in an object to restore its color and a simple connect the dots game. When successfully done – you get three more crayons and two more drawings. There's a way to go before you get all 120. To extend the game, puzzles are repeated three or four times each. It will have kids wondering what they did wrong the first few times.
The Coloring Book Mode is the best. You have four different points – fine, medium, a crayon-look and a marker–look plus an eraser. The colors, halftones, primary and secondary colors are beautifully done. The coloring book drawings are unworthy of the colors provided. I am hoping that with the Crayola box, Crave eventually comes up with a good coloring book.
One problem – I want to take this box of crayons and markers and use it outside of the game. I just can't leave all those great crayons stuck inTreasure Adventure.

Fun Factor: Think of what you could do with 120 colors
Player Friendly: Real easy for kids.
Reviewed by: Editor - 12/07
Crayola Treasure Adventures
&copy Crave
Platform(s): GBDS
To Order: GBDS http://www.amazon.com/ $29.99