---
---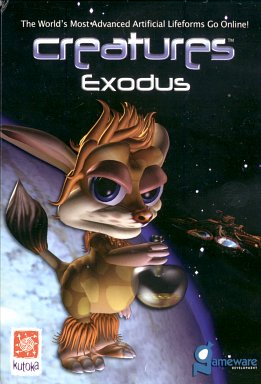 Creature Exodus
Ages: Everyone

Yes, the Norns have finally made it into space. They are on an immense abandoned spaceship called the Arc made up of four very different environmental areas: the Norn Terrarium, the Jungle Terrarium, the Aquatic Terrarium and a dry Volcanic Terrarium. All have both adventures and hazards for our Norns.
Vying with the exploration is your main purpose -- to create a successful and sustainable Norn community. The Norn cycle here is the same as in all the other Creature games, they hatch from an egg, grow up under your care, mate and after living a full life (about 7 hours), eventually die. How all this is managed in a spaceship is very interesting. Besides food, weather and recycling management, you have machine parts strewn around which you can link to make into working machines. The machine making can serve as a game in itself and soon you almost forget that it is just a game
There is so much going on in this game that you MUST read the manual. It's a cross between a Myst game and an Sims game. However, the organic renderings of machines and equipment provide you with no hints as to whether something is to be eaten, used to teach language, take you for a ride or incubate eggs.
While all this is enough for days of play there is still more. A Docking Station named Capillata equipped with a workshop and a central control area is engineered to send the Norns ON-LINE. The game is enticing but I will have to wait until after the holidays to really get into it. So many games -- so little time
Reviewed by: Editor - 12/05
Creature Exodus
&copy Kutoka/Creature Labs
W98 Me XP 2000 MAC
To Order: Win http://www.amazon.com/ $17.99
To Order: Mac http://www.amazon.com/ $17.99