---
---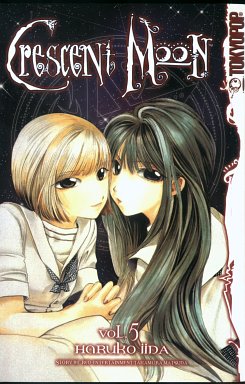 Crescent Moon #5
Ages: Teen 13+

"Originally published in Japan as Mikan no Tsuki (literally 'An Incomplete Moon'), Crescent Moon is the story of Mahiru Shiraishi, the 'Descendent of the Princess' and her encounters with the 'Lunar Race,' a tribe of demons whose powers are awakened by the moon, strongest at Full and weakest at New."
"After Mahiru has a haunting recurring dream, she meets the Lunar Race, which consists of the vampire Nozomu, the werewolf Akira, the fox Misoka, and the tengu Mitsuru. They need her help to recover the 'Drops of the Moon,' the recently-pilfered source of their power. As the battles to recover the Drops rage on, Mahiru tries to open up the dark, human-hating tengu Mitsuru, and form a bridge between humans and the Lunar Race"
"The bloody battle between the Moonlight Bandits and Dawn's Venus wages on, and the results are deadly! Volatile love may be lost in the fray and one relationship comes to an end while another one begins to blossom. When Mahiru is taken to the Moon Palace, will she be able to overcome her own pain and suffering in order to save the Empress?"
Reviewed by: Tokyo Pop - 06/05
Crescent Moon #5
Author: Harauko Iida
&copy Tokyo Pop $9.99
Printed Book
To Order: Book http://www.amazon.com/ $9.99
Game Site: http://www.tokyopop.com/