---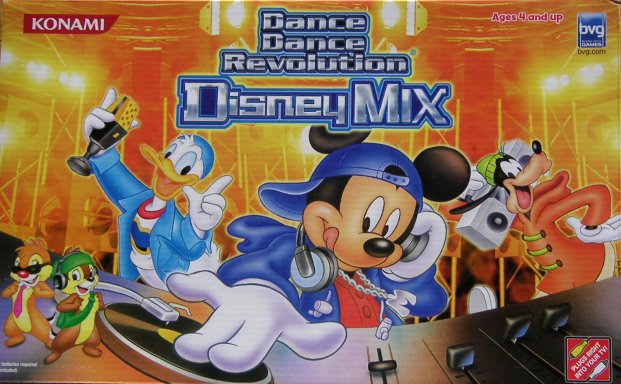 Dance Dance Revolution - Disney Mix Plug and Play
Ages: Age 4 and up

It was only a matter of time before Konami recognized that little kids want to Dance Dance too. Little legs have a hard time reaching the hot spots on the adult pads and so the smaller size is just great. The songs are Disney tunes – about ten of them spun by Donald Duck as the disco mixer. The dance pad is covered with Disney paraphernalia with a start, back and resent button along with the four cardinal direction arrows.
The routine is the same as the adult versions – arrows move upwards on the screen and you step in time as they reach the step zone. The Easy setting is slow enough for even the most challenged dancer. This is a self-contained product – you just insert 4 AA batteries, lay down the pad and plug the 3 way cable into the three sockets on the front or rear of your TV. It's portability is a big plus. Roll it up and you can take it anywhere.
This is a total Disney product and I wish Konami had more of a hand in it's design. The screen is too cluttered to easily spot the arrows and it's the same with the dance pad with Disney characters fighting for presence with the dance arrows. But then, you're not supposed to look down at your feet when you dance. It's a good beginning and an important addition to the Dance Dance line.
Reviewed by: Editor - 01/07
Dance Dance Revolution - Disney Mix Plug and Play
&copy Konami/Disney
Platform(s): No computer needed
To Order: Other http://www.amazon.com/ $29.82