---
---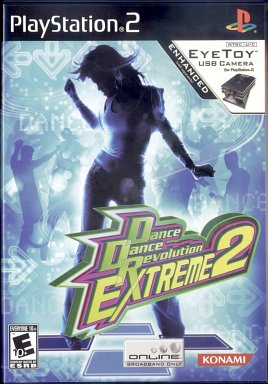 Dance Dance Revolution Extreme2
Ages: Everyone

With each new version of the Dance Dance series comes new songs. Chances are that you will be pleased with the latest selections but it would be nice to have them listed on the back of the box instead of being surprised when you launch the DVD. While the game has over 70 songs -- only 25 are available to start out with. For all the others you have to unlock by passing the tasks in the Dance Master Mode.
For newbies -- are there any out there? -- there is the Lesson Mode which introduces some of the techniques over a course of seven lessons before a final test. Training Mode is different in that it lets you practice a specific song or part of a song where you can go from easy to challenger level.
Again there is the workout mode which will keep more data on your activity than you might really want. A password keeps your personal files for your eyes only. There is two person mode and an online mode for when you want to challenge the world. There are lots of features to explore in the game from selecting characters - or not -- to customizing a special dance routine.
The game requires a foot operated controller -- no fair letting your fingers do the dancing.
Reviewed by: Editor - 02/06
Dance Dance Revolution Extreme2
&copy Konami
PS2
To Order: PS2 http://www.amazon.com/ $39.88