---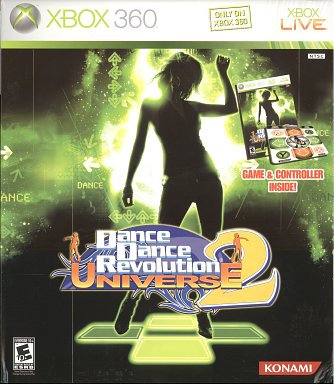 Dance Dance Revolution Universe 2
Ages: Everyone 10+

Who ever though way back in '99 that a game with four directional arrows moving up the screen could spawn games like Guitar Hero and Dance Dance Revolution Universe2? That early game was Parapat the Rapper on the PS! We've come a long way since then – not so much in concept but in controllers and artists. This is probably the brightest, fastest, most competitive DDR to date.
There are 70 hits by Outkast, Franz Ferdinand, Keane, Ferry Corsten, The Bangles, Men Without Hats, Herbie Handcock, Jason Nevins vs. Eric B. & Rankim, Amon Tovbin, Tipsy Kaskade and Andy Caldwell. Not all are available – you have to dance to unlock them. This package comes with Konami's DDR controller so you can get started right away.
You can build your own character in the Quest Mode – gender, face, hair, body style, costume and earn even more customizations. Nothing beats an avatar that looks like you dancing and jiggling about. Gameplay Modes offer single, multiple controllers - up to 4 players, online, and workout. Difficulty levels are beginner, basic, difficult, and expert, and songs are rated on a foot meter scale with the more feet the harder the song is.
Master Edition is the main game menu from which you get
Game Mode
Party Mode
Quest Mode
Workout Mode
Challenge Mode
Training Mode
Edit Mode
Jukebox Mode and
Xbox Live Mode.
Most of these are self explanitory but some deserve more explanation.
Quest Node has you bobbin' through different islands where each city has different fan base requirements.
Party Mode gives you five different Battle types plus Bomb and Attack.
Free Mode, where as long as you keep to the beat you can make your own steps.
Edit Mode allows you to customizes steps and background video,
and if the modes aren't hard enough you can rearrange the display - rotate or mirror it. Think what that does to your brain. The Training Mode is not for beginners, it focuses mostly on mastery of difficult songs.

Speed, difficulty, leaderboards and arcade style competitiveness are the focus of this version.


Fun Factor: This is better than a fat farm

Reviewed by: Editor - 12/07

Dance Dance Revolution Universe 2
&copy Konami
Platform(s): XBox360
To Order: XBox360 http://www.amazon.com/ $69.99