---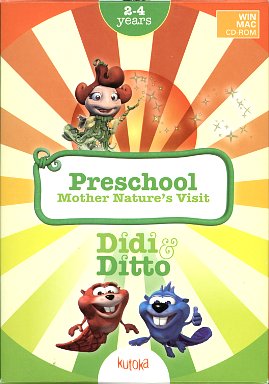 Didi & Ditti: Mother Nature's Visit
Ages: 2 - 4 years

We don't get many games for young children, but Kutoka, a well respected producer of games for children has come out with one for Preschool kids, ages 2 - 4. The game can be played in activity or story mode. Story mode is about finding the musical instruments and food that hasn't been swiped by Zolt to spoil the party for Mother Nature. He doesn't really want to spoil the party, he just wants to be the hero that retrieves the missing instruments and food so that as a reward he will be made mayor. A complicated set of constructs for young kids.
I think that jumping into the activities and puzzles instead of going through the story line would be more satisfactory for the younger kids. The instructions are clear and easily followed. The story is more complex and sometimes it is confusing to figure out what else has to be done in a scene before proceeding to the next area.
The colors are clear and lovely, enough characters besides Didi and Ditto - one's a boy and one's a girl - and I always get them mixed up. There are lots of things that animate when clicked upon. Puzzles center around putting pieces of musical instruments together - the three levels differ only in the number of pieces. The activities involve sorting our recyclables, identifying letters and numbers, bowling with animals, and assembling items for cooking. It comes on a hybrid disk so it plays on both Mac and PC. If you can't find the game at Amazon, go to www.kutoka.com - it's about $20.00 and there are other fun games on the site.

Fun Factor: Bright colors and cheerful encouragement
Player Friendly: Kids games need a small mouse.
Reviewed by: Editor - 11/08
Didi & Ditti: Mother Nature's Visit
&copy Kutoka
Platform(s): WVISTA XP OSX