---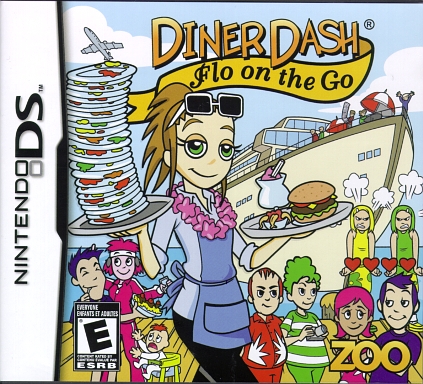 Diner Dash: Flo on the Go
Ages: Everyone

Is there anyone who hasn't played Diner Dash? The DS version is out for those who haven't or for holiday gifting. Each new version embellishes the basic game of running a restaurant - seat customers (extra points if you match the customers colors with the chair), take orders, serve, hand out checks and bus - with some new frills.
Departing on a cruise vacation with Dana, Flo's bags fall overboard. To work for money for clothes and travel expenses she and Dana agree to do what they always do -- run the restaurant. The addition is earning clothes and dress-up (could have been a more varied selection). Flo loses her bags in five different themed locations - cruise ship, train, submarine, blimp, and finally outer space.
Because it's on the DS you can drag items or use the old way of point and click. The trouble with all of the DS ports is that the screen is too small for all that is going on - particularly when you are picking food items or trying differentiate the customers requiring special care.
The new additions make the game more interesting but the essence of the game is the same as the original - it's successful - no need to change it. The DS Multi-Card wireless connect games require one game card per player. I would like to see the one card for multi player become the standard.

Fun Factor: New locations add interst
Female Factor: Flo is an icon
Player Friendly: Game is better on a bigger screen.
Reviewed by: Editor - 11/09
Diner Dash: Flo on the Go
&copy Zoo
Platform(s): GBDSDS
To Order: DS http://www.amazon.com/ 27.99