---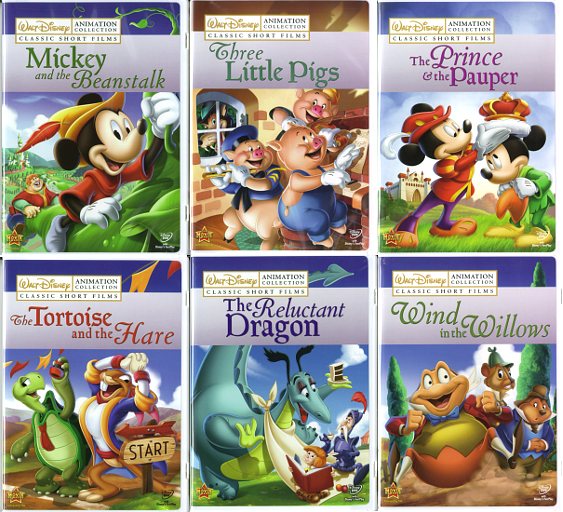 The Disney Animation Collection Vol. 1 - 6
Ages: General Audience

This should have been sold as a boxed set – once you have played one, you will want all six disks. Disney cartoons, some as early as 1936, a few in black and white and all with English, French and Spanish subtitles can be enjoyed by young and old alike. It's from a time when Disney used fairy tales for plots – many take a creative turn.
Each disk has a mix of early and recent work. Many contain original songs, which make them like mini-musicals. The box art shows the main cartoon, usually a half hour long piece, plus each disk contains four to seven additional shorts. A litho print from the title selection, nicely done on card stock is included in each box.
For some of us who are old enough, it's validation that, "Yes, I did see that, I didn't imagine it". For those who are younger it's a bonanza of wonderful Disney cartoons – all played without commercials, except for the annoying movie promotions in the beginning.
Mickey and the Beanstalk
The Brave Little Tailor
Gulliver Mickey
Thru The Mirror
Mr. Mouse Takes a Trip




Three Little Pigs
The Big Bad Wolf
Three Little Wolves
Lambert The Sheepish Lion
Chicken Little
The Three Blind Mouseketeers
Elmer the Elephant


The Prince and the Pauper
The Pied Piper
Old King Cole
A Knight for A Day
Ye Olden Days






The Tortoise And the Hare
Babes In The Wood
The Saga of Windwagon Smith
The Goddess Of Spring
Toby Tortoise Returns
Paul Bunyan

The Reluctant Dragon
Goliath II
Ferdinand The Bull
Johnny Appleseed



Wind In The Willows
The Ugly Duckling
The Robber Kitten
The Grasshopper And The Ants
The Wise Little Hen
The Golden Touch


Fun Factor: A wonderful trip through favorite folk and fairy tales
Female Factor: Not much - this is the Mickey gang
Reviewed by: Editor - 05/09
The Disney Animation Collection Vol. 1 - 6
&copy Walt Disney Studios
Platform(s): DVD
To Order - Mickey and the Beanstalk: http://www.amazon.com/ $13.99
To Order - Three Little Pigs: http://www.amazon.com/ $14.99
To Order - The Prince and the Pauper: http://www.amazon.com/ $15.49
To Order - The Tortoise and the Hare: http://www.amazon.com/ $14.99
To Order - Wind In The Willows: http://www.amazon.com/ $14.99
To Order - The Reluctant Dragon: http://www.amazon.com/ $14.99