---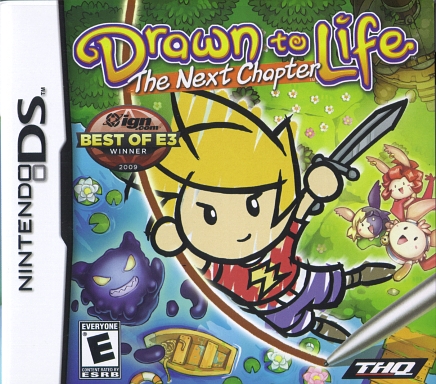 Drawn to Life: The Next Chapter
Ages: Everyone

It is different from the Wii version and seems more designed for younger children - it is more of a fantasy. It starts with a long exposition telling how Wilfre, the black sheep of the Raposas, has returned and is capturing citizens and removing all color from their village - you could call it a "white out". They escape on a turtle boat whose shell sports a whole village. Fantastic!
You have all the drawing/coloring tools here. The Hero outline form almost begs to make a multi-limbed creature. Drawing ink has special properties - blue says put, red drops, and green bounces. These different properties can be used to solve various problems. Draw your way through hazards with the Active Drawing mode. Speak with citizens who give you missions, jump, stomp and punch and morph into a blob or spider. Not as many choices as in the Wii version - but the DS loves this game.

Fun Factor: Unusual - take it easy and enjoy.
Female Factor: Pay no attention to the character on the cover - your hero can be a woman
Player Friendly: Saves upon exiting or press Start and select disk image. You think they could have told you that.
Reviewed by: Editor - 11/09
Drawn to Life: The Next Chapter
&copy THQ $
Platform(s): GBDSDS
To Order: http://www.amazon.com/ $29.99