---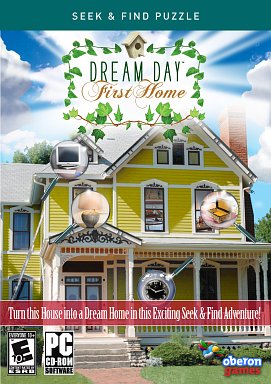 Dream Day First Home
Ages: General Audiences

The game quickly engages your help in choosing fixer-uppers for Jenny and Robert. Hidden Treasures Realty has two listings - a Craftsman Home and a Victorian Home. Once your selection is made you have to play a house through to the end – but you can always sign on as another player and play the other house. You will probably play both houses anyway. Architecturally speaking – they are not very different although the background music varies from soothing to contemporary.
From the Main Menu you can choose Options to control volume for music and effects, choose full screen or a windowed software mode, and turn off the timer for the Carefree mode. The last is important for those who play for relaxation instead of points.
This is basically and seek and find game. As you find the objects listed on the side menu, they are highlighted and disappear. The cluttered room is the Before room, and as you continue to play and find objects – it gets to be a cleaned up After room. You get to work on a bedroom, kitchen, bathroom, garden and even the attic.
Mini games are interspersed within the seek-and-find, adding both variety and a change of pace from the seeking mode. Oberon has done a good job with concealing the items – of course there are always some that elicit the comment. " Hey, that's not fair". But then, you have golden egg hints that will find a few for you.
It's a clever development for the Dream Day venture – what can be next - Baby Showers?
Dream Day First Home can be downloaded for a free trial or purchased from the developer http://www.oberongames.com for $19.95.

Fun Factor: Following the lives of Jenny and Robert makes the hidden objects game more interesting
Player Friendly: Easy non-timed option
Reviewed by: Editor - 03/08
Dream Day First Home
&copy Elephant Entertainment/Oberon
Platform(s): WVISTA XP
To Order: Win BestBuy or Target $19.95
Game Site: http://www.oberongames.com/