---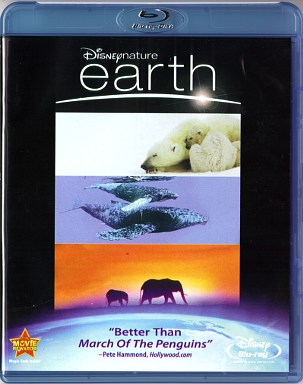 earth
Ages: General Audience

This is not to be confused with the five-disk BBC production ofPlanet Earth. Now that that that's out of the way - what does the DVD Blu-ray disk offer? Disneynature's earth has some spectacular footage. It focuses mainly on polar bears, humpback whales and elephants.
The harshness of survival is never out of the frame for long. Spectacular scenes of Mama Polar Bear coming out of her hibernation hole with two cubs behind her are coupled with Papa Bear starving because global warming has melted the ice floes that used to sustain his weight while fishing.
The elephants' endless trek from the Kalahari Desert to the abundant water in the Okavango Delta, with the little ones hardly making it, has you at the edge of your seat rooting for them. These scenes are interspersed with a cheetah hunting down a gazelle - no blood on screen, and a stand-off between a pride of tigers and the elephants.
The photographers go underwater to capture a whale and her calf on the 4000 mile migration to the south pole. More spectacular shots here; one of a shark breaking water as it captures a seal - all teeth - and the interesting sequence showing how whales form a circle to make a bubble net to capture krill.
The music is good - sad when it needs to be. James Earl Jones' voice is a great addition. No one can doubt the importance of anything he says. The editing will please some and dismay others. Stories are broken up with a bit about the water cycle or scenic scenes, or a piece about another animal. Meanwhile, I am urging. "Get back to the polar bears", or "Tell me, did the elephants make it?" The stories are compelling.
How did they do it? As on many Blu-ray disks, the bonus showing, "The making of …" proves to be extremely interesting. The close connection between the helicopter pilots and the cameramen was so important that when one cameraman was out of service due to an appendix operation, the second stringer just couldn't cut it. Keeping animals in the frame while in a helicopter is a task requiring great expertise. The camera information is for camera buffs but they had 45 cameramen and traveled to 62 countries, used every kind of conveyances from simple schlepping, helicopter, air balloon, snow sleds, scuba and even a Royal Navy ice breaker so that you can sit back, and in leisure, enjoy their work.
This Walt Disney Studio Home Entertainment combo pack comes with a Blu-ray disk and a DVD in a single package.
Reviewed by: Editor - 09/09
earth
&copy Walt Disney Studios
Platform(s): DVD
To Order: DVD http://www.amazon.com/ $24.99