---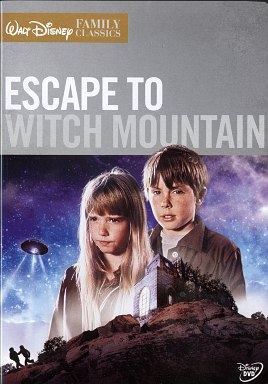 Escape to Witch Mountain
Ages: General Audience

It is not always possible to see both an original movie and its sequel sequentially - it was interesting to be able to compare the two recently released DVD disks. Both have well known adult stars; both have Ike Eisenmann and Kim Richardson cast as the children; both have flying saucers - end of similarity.
Escape to Witch Mountain first released in 1975 - a time when flying saucer sightings were in the news, features two charming extraterrestrial children trying to find their way home. Both have some special talents. Tia can talk to animals, and unlock locks and speak to her brother telepathically. Tony has the power of levitation and seeing the future by playing his harmonica. With these skills, they have to defend themselves and escape from the clutches of the two villains, played by Ray Milland and Donald Pleasence. Eddie Albert is the good guy hiding the kids in his camper. It's a good mix and the action takes place in some fascinating locales in California - an old orphanage, a hidden castle and the sparkling California coast. Special effects are well done and amusing .
The newly released third movie (March 2009) with new leads, is a sci-fi action flick. Race to Witch Mountain promises more action, a taxicab good guy, wise-cracking humor and UFO-fu.
The extras on the Escape to Witch Mountain disk give a quick review of the Disney special effects and interviews with the children in the cast - all now grown. Clearly it was almost a family experience for all of them.

Fun Factor: Fun for the whole family
Female Factor: Good female lead.
Reviewed by: Editor - 02/09
Escape to Witch Mountain
&copy Walt Disney Studio
Platform(s): Movie
To Order: DVD http://www.amazon.com/ $14.99