---
Madagascar: Escape2Africa and
The Penguins of Madagascar
Ages: General Audience

All those waylaid New York Zoo Animals are finally routed to Africa in the sequel to Escape2Madagascar. Alex, Marty, Melman, Gloria, King Julian and the gang are in for a life changing adventure when their attempts at getting back to New York lands them in a wild life preserve in Africa - their true homeland - that is except for the penguins.
Alex finds his parents who are slow to appreciate dancing over fighting; Marty joins a herd of identical zebras and has issues of his unique identity; Gloria finds a hunk hippo that goes by the name of Mojo Mojo who appreciates her curves and girth; Melman becomes witch doctor and King Julian tries to appease the angry gods with a living sacrifice. The hilarious Jewish old lady from the Bronx reprieves her combative role. The voices are from the original movie and the songs continue to be charming and clever. Special feature include music videos, interviews with the producers and graphic artists describing the many varieties of art had to be created from herds of animals, dust and grass, a discussion on the most spectacular actions, a short interactive game and a fun lesson in Swahili speak.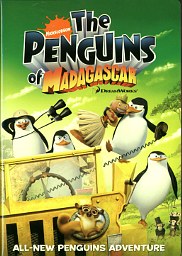 The second disk is all penguins, with two short features - it's new and gives them the exposure they deserve. Popcorn Panic has the penguin crew devising a work around Zoo keeper Alice's rules against the feeding of pop corn to the animals. A long joke that starts with the penguins not understanding how corn kernels become popcorn ends with a hilarious conclusion. From funny to even more funny is Gone in a Flash which involves capturing images in a camera with all the hilarious repercussions giving a satisfying comeuppance to King Julian.
Special features deal mostly with scenes from the whole picture with the exception of the cheat codes for a new Activision game and penguin style activities. The Penguins are my favorites from the first picture and I am delighted to see that DreamWorks and Activision are giving them more play - Yea - bring on the Penguins.

Fun Factor: A nice take on belonging
Female Factor: Gloria is big, fat and attractive. Go for it.
Reviewed by: Editor - 02/09
Madagascar: Escape2Africa and The Penguins of Madagascar
&copy Dreamworks
Platform(s): DVD
To Order: DVD http://www.amazon.com/ $22.99