---
---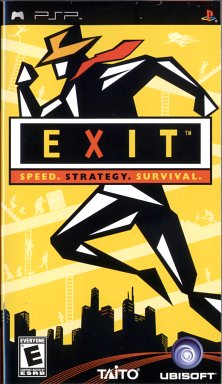 Exit
Ages: Everyone

Exit is exactly the kind of game that I have been waiting for since Pit Droids A strategy puzzler that's not just sorting falling colorful baubles or fighting my way through the game. However, it is a platformer, so be prepared to work hard on some of the levels. It is a side scroller and the colors and graphics are almost psychedelic. And it's on the PSP.
In the game, you are Mr, ESC. and your job is to help people trapped in very dire circumstances. You will have to search and find the victims, lead them over obstacles, have them jump, climb, push things -- even navigate in the dark It feels much like disaster preparedness training. Your population of distressed souls range from children to oldsters with a few bed ridden patients thrown in for good measure. What you soon learn to do, is to work with the ability that each person possesses and so it is a joint venture.
I think it is a novel idea for a game. Maybe they will port it to the DS. Maybe they will make a game with Florence Nightingale and how she fights to save different patients with various ailments. After all, saving is more of a woman's role.
Reviewed by: Editor - 02/06
Exit
&copy Ubisoft/Taito
PlayStation Portable
To Order: Other http://www.amazon.com/ $39.99