---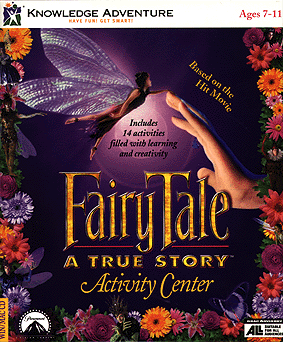 Fairy Tale - A True Story(TM) - Activity Center
Ages 7-11
Okay, you've seen the movie; now here is a way to spend more time in the Beck and take your own pictures of fairies. If you haven't seen the movie there is a theatre just at the edge of the Beck where you can see clips of the movie. The Beck, in case you haven't seen the movie means brook, and this brook flows through a green glen, filled with flowers and fairies. There are lots of things to do; match the fairy game, jig saw puzzles, word games, books that will tell you all about fairies. You can design your own fairy glen, help free Harry Houdini from locked chains and paint and frame pictures of fairies. Every thing is great except the coloring part - it was hard to stay inside the lines and I wanted more colors.
But the most exciting part of Fairy Tale is finding and taking pictures of the fairies (and printing them too) but you have to learn how to do it. You must first find the camera and the fairy dust. You need the fairy dust so that the fairies will hold still for the picture. Now you must find a spot where you think the fairies are hiding; make sure the camera has been set, sprinkle the fairy dust, take the picture, click on the red light to go to the darkroom, place the picture into the three required baths for developing, and then click on the developed picture to see it in your diary - whew! It's not so hard once you get the hang of it, and you are learning something about developing pictures too!. If you have a color printer you can make prints of the fairies.
I printed a few pictures, but I spent most of my time looking for things in the Beck. I liked being in the cool green forest with the misty brook, and all the flowers and mushroom fairy rings around me.
Reviewed by Maryanne
Fairy Tale - A True Story(TM) Activity Center- $29.95
1997 CUC/Knowledge Adventure
Hybrid CD-ROM Windows 95, Macintosh
Order from: 1-800-542-4240