---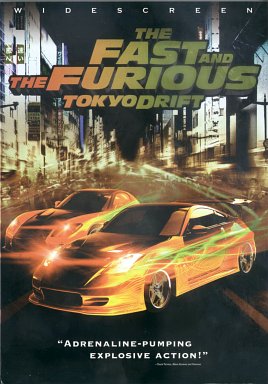 Fast and Furious -- Tokyo Drift
Ages:

A well put together and interesting movie about -- as the title says "drifting". Drifting is a hot exercise in the racing genre and resembles what we call in our neighborhood "donuts" and involves turning a car, with your front wheels being sort of a pivot point around which your rear wheels turn. Here in Oakland, California it is frowned upon because of the violent crowd it attacks.
A reprobate teen, Lucas Black (Friday Night Lights), on the cusp of being thrown into jail for his third driving offense in remanded to this father in Tokyo. Warned to stay away from cars, his talking to a girl gets him into a driving challenge through a spiral garage. He learns how to do drifting – lots of time spent on this, and gets mixed-up with Japanese yakuza before his final hair raising mountain race in the dark. There are some respectable actors here -- Bow Wow (Roll Bounce) as the scam-artist, comic relief Sonny Chiba (Kill Bill) as a yakuza big shot, heavy and proud, and Sung Kang, (Better Luck Tomorrow), who has the best line in the movie. When asked by Lucas why he let him total his car in a race, he replies that a car is small cost to find out what a man is worth.
The film is a paean to cars – all shiny in jellybean colors in shapes not generally seen to mere mortals. The movie lingers lovingly on machine parts slowly being lowered into the cars. The driving is pretty spectacular too. I enjoyed the strolls throughthe seamier side of Tokyo. And the movie clued me into how to do drifts.
Reviewed by: Editor - 10/06
Fast and Furious -- Tokyo Drift
&copy Universal Pix
DVD
To Order: DVD http://www.amazon.com/ $14.88