---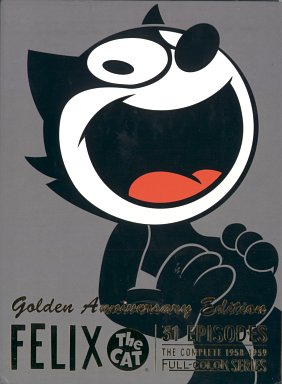 Felix the Cat - Golden Anniverary Edition
Ages: All

This two DVD set contains the complete 1958-1959 full color television series, 31 episodes in all, running about 7 minutes each. This series was the revival of the 1920's cartoon character in new episodes, featuring Felix' nemeses The Professor, Rock Bottom and Poindexter. The 'Magic Bag of Tricks' which was created in the 50s could assume an infinite variety of shapes and uses for Felix - from escalators to airplanes to picnic tables and beyond. In many episodes, the Professor and Rock Bottom set out to get their hands on it, but of course, never succeed.
The originaal Felix started in the 1920s as silent black&white cartoons by Sullivan and Messmer. In the 1950s the original shorts were purchased by Official Films, who added sound tracks and distributed them to television markets. Eventually a new series was created, which is captured in this series.
If you were a fan of Felix 50 years ago, or in later reruns, you will enjoy them again. Like many short items or periodically produced material, I prefer to view only one or two at a time, not all at once.
Reviewed by: Lou - 10/07
Felix the Cat - Golden Anniverary Edition
&copy Classic Media $26.99
Platform(s): DVD
To Order: DVD http://www.amazon.com/ $26.99