---
---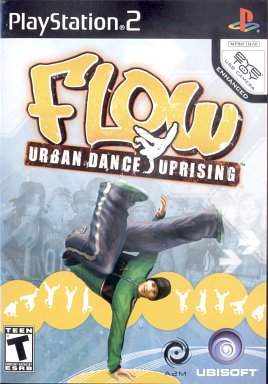 Flow - Urban Dance Uprising
Ages: Teen

OK -- this is a hip-hop dance game. When I first looked at it I figured, There is no way can I do any of those moves and it' not just me. How can they make a game like this? Well they did. You work the standard dance pad and arrows but what you see on screen is an incredible hip-hop artist. His/her dance steps are keyed to the accuracy of your moves. Miss, and the dancer stumbles, stop and the dancer marks time, hit all the right moves and you get a spectacular performance. The crowd watching you responds with growls or encouragement. Clever.
You have a choice of a few characters -- more to be unlocked and a couple of choices of clothing. The settings are all scrunge New York -- 106St. Subway station, PS 51 (public school), City Hall, and the Yard just to name a few. They are all so right they me homesick.
There are 100 challenges in the game (10 challenges per level) and you need to complete a challenge to unlock other levels and items. Multiplayer mode requires two controllers and the game play ranges from easy head-to-head to serious competition.
The dancers and techniques are marvelous. If you haven't been up close to see this style of dancing the feats are incredible. One problem. Hard to enjoy the dancers when you are focused on your own steps. To dance, a game pad is required and if you choose to show your own pathetic moves -- an EyeToy
Reviewed by: Editor - 12/05
Flow - Urban Dance Uprising
&copy Ubisoft
PS2
To Order: PS2 http://www.amazon.com/ $29.99