---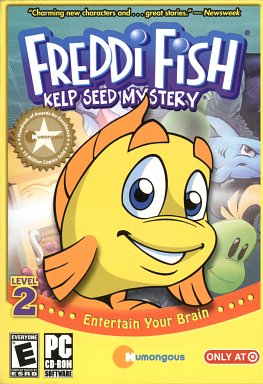 Freddi Fish – Kelp Seed Mystery
Ages: Everyone

Once again we can share the adventures of Freddie Fish and her friend Luther and Luther's adventures. This is one of a group of revivals of 4 excellent kid games from the 90's – Putt Putt, Pajama Sam, Spy Fox in their most famous adventures.
The unique thing about these games is that there is much to do. Everything in this colorful underwater world is clickable and produces surprising animations and sounds – flowers that sing, squiggly things that burp, shells that clack and dance. The adventure is about finding Grandma Grouper's missing kelp seeds. Important because it is the kelp that feeds the fish. The bold arrows make it easy to follow the trails branching off to the different locales where you will meet many denizens of the deep. The colorful environments are often surprising and feel vast – a junk yard, the Kings palace, skull cave, a theater, a sunken ship and many more.
Messages in bottles provide additional clues for the search. Freddi will pick up items as she talks to the different characters and use them to trade for needed items and passage to different areas. The items you find are usually needed two or three branches away so it's a fun spatial memory exercise. Humongous even sneaks in a math and geography lesson. Two bumbling sharks add a little sense of danger as does Squid Father, a mafia-looking Don. Eventually, the paths will lead to the kelp treasure. It is not over yet. There is a lot of replay value because as you replay the game, new areas will open up and the play includes both familiar and new environments. Parents and grandparents will enjoy playing it with the kids.
These game have been known for their excellent voice acting and I forgot how many different ones there were. Music for the game is original – the scroll went by too fast for credit but Ron Gilbert did the game. The game is only available at Target stores. You can't go wrong buying all 4. I keep a Win 95 machine just so I can play the original versions of these games but it is wonderful to have them updated for the newer machines.

Fun Factor: Loads of fun
Female Factor: Freddi is a female fish
Player Friendly: Pressing S saves the game at any point.
Reviewed by: Editor - 10/07
Freddi Fish – Kelp Seed Mystery
&copy Humongous $19.99
Platform(s): W98 W2K WXP WME