---
---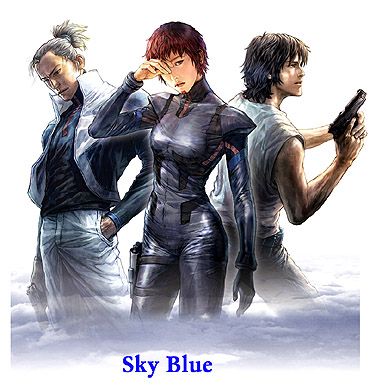 Sky Blue
Ages: Unrated

Note: Sky Blue is previewing at the Nuart theatre in Los Angeles 12-31-04 to 1-2-05
11272 Santa Monica Boulevard, just west of the 405 Freeway
West Los Angeles, CA 90025
(310) 281-8223

I KNOW that I shall meet my fate
Somewhere among the clouds above;
Those that I fight I do not hate
Those that I guard I do not love;

W.B. Yeats, 1919

The film opens with a haunting sad voice giving you the back story -- ecological disaster, earth warming, toxic rains, millions die, the creation of a genetically engineered city -- a sanctuary, only for the elite few -- for the other survivors, the wasteland. The inhabitants of the Wasteland are the Diggers, providing Ecoban with the necessary carbon for survival. And voice ends with "Everybody wins, but some win more that others". And so the scene is set for an epic battle of conscience and to whom does the greater good belong..
You soon find that the speaker is Jay, the red haired captain of an elite force protecting Ecoban from intruders from the Wasteland. Predictably one of the intruders in a spirit mask is Shea, and when they meet face to face as Jay is about to arrest him, both realize that they were childhood sweethearts lost to each other.
The tension weaves about the two lovers, with well defined characters on both sides of the conflict. The anime style is perfect for depicting innocence, contorted evil and wistful longing. The composite film, melding 2D character animation with 3D models and computer graphics for the background scenes, is a seamless integration, never hinting to the viewers the vast amount of work involved.
The topics the film addresses -- the environment, pollution, the destruction of the earth through global warming, the worlds population with the strong divide of haves and have- nots will appeal to the less cynical of us. The earths destruction is conveyed in the purple and black clouds hanging low over the harsh inhospitable world of the Diggers. In shoen manga (for girls) every female has at least two males vying for her attention and Jay has both Shua, her childhood sweetheart now a visionary rebel, and Cade, the security commander who is her current lover. While the love interest will please the girls there are plenty of zooming mechanical toys and explosions to please the boys.
Sky Blue is Directed by Moon Sang Kim;
Produced by: Kyeong Hag Lee, Kay Hwang, Sunmin Park, J. Ethan Park
You can watch the first 8 minutes of on: http://www.ifilm.com/ifilmdetail/2658922

Reviewed by: Editor - 12/04

Sky Blue
Screenplay by: Moon Sang Kin, Jun Young Park, Sunmin Park
Stephen Kim, Executive Producer
Theatrical Movie