---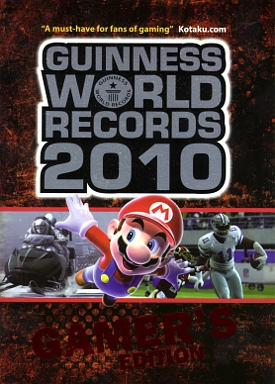 Guinness World Records 2010: Gamer's Edition
ISBN-13 978-0744011838
Rating: NR - Not Rated

This the first issue that that has come across my desk. This means that I have missed out on the other two years. This third issue of Guinness World Records 2010: Gamer's Edition deals expressly with games. It's an indication of what a large part of our economy games take.
It's eye-opening to see how the other half plays. There are hundreds and hundreds of games the have been selected as "the best of", the "most played", "longest video game marathon" - that sort of stuff. From our corner of non-violent games - only thirteen games that have appeared on our sites have been mentioned in the book:
Okami (the worst performing Game of the Year - hey, we liked it),
Sims,
Babyz,
Cooking Mama,
Sing Star,
Lumlines,
PuzzleQuest: Challenge of the Warlords,
Bejeweled,
Dr. Kawashima Brain Training
(out in 05, still selling in 09),
Professor Llyton and the Curious Village,
Rayman Raving Rabbids,
Final Fantasy,
Guitar Hero
.
I think they have to expand their genres.

The book is organized around genres: Shooting Games (8 different kinds), Sports and Racing Games, Action-Adventure (but no pure Adventure), Fighting Games, Party Games, Puzzle Games, Role-Playing Games, Strategy and Simulation Games. There is a Top 50 Video Game Series which includes both new and old favorites. Side bars are filled with interesting trivia and all of it is in color.

If you are not an avid reader of game magazines, lots of this stuff will be new to you. If you follow the game industry, and are already playing, or have played the top ten - it still has enough trivia to make for interesting reading.


Fun Factor: Insight into games you might want to play and games your boyfriend plays.

Reviewed by: Editor - Jul/10

Guinness World Records 2010: Gamer's Edition
&copy Guinness World Records
Platform(s): Printed Book
To Order: Book http://www.amazon.com/ $10.99