---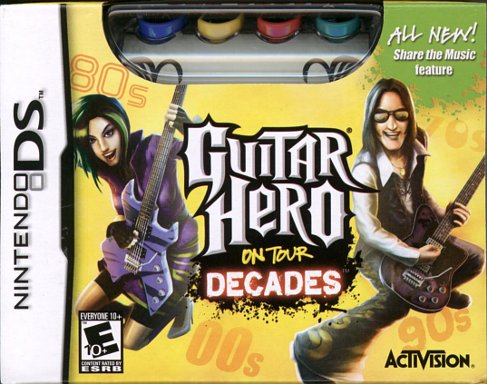 Guitar Hero On Tour; Decades
Ages: Everyone +10

We thought that the first version of this game (Guitar Hero On Tour, engineered for the DS, was one of the great coups of the year. Yeah, it was a little hard on the hand - we just tightened the strap. Our singular disappointment was that it was a play-alone experience. With this release, Decades you now can share the music with the On Tour version. For two players there is Face-off - compete head to head with specially designed guitar tracks and Coop - one plays lead, the other plays rhythm or bass. Two more new characters are also available - Clive and Midori.
The song list is awesome:
Alien Ant Farm - "Smooth Criminal"
The All-American Rejects - "Dirty Little Secret"
Blind Melon - "No Rain"
Blondie - "One Way Or Another"
Bon Jovi - "You Give Love A Bad Name"
Boston - "Rock and Roll Band"
The Darkness - "I Believe In A Thing Called Love"
Edgar Winter Group - "Free Ride"
Fall Out Boy - "The Take Over, The Breaks Over"
Foo Fighters - "The Pretender"
Free - "All Right Now"
Jimmy Eat World - "The Middle"
Joe Satriani - "Satch Boogie"
Journey - "Any Way You Want It"
Lenny Kravitz - "Are You Gonna Go My Way"
Linkin Park - "One Step Closer"
Los Lobos - "La Bamba"
Lynyrd Skynyrd - "Sweet Home Alabama (live)"
Paramore - "Crushcrushcrush"
Queen - "We Are The Champions"
R.E.M. - "The One I Love"
Red Hot Chili Peppers - "Can't Stop"
Sammy Hagar - "I Can't Drive 55"
Seether - "Remedy"
Smashing Pumpkins - "Tarantula"
Stone Temple Pilots - "Down"
Veruca Salt - "Volcano Girls"
Weezer - "Buddy Holly"
With a list like this - it's worth it just for the tracks.

Fun Factor: Until you can afford the ax.
Player Friendly: Take frequent breaks to avoid any discomfort.
Reviewed by: Editor - 12/08
Guitar Hero On Tour; Decades
&copy Activision
Platform(s): GBDSDS
To Order: DS http://www.amazon.com/ $47.99