---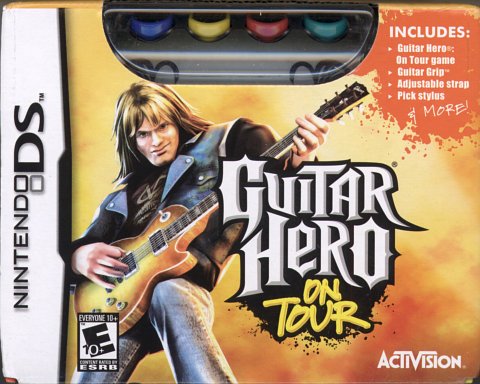 Guitar Hero on Tour DS
Ages: Everyone 10+

Ok, so the fret attachment comes loose if you jiggle it too much, making you start over and it's hard getting your pinky to work - but hey, I plotzed at that first bit of tuning the guitar. Guitar Hero on Tour for the DS is really a small marvel. And you begin wondering what you can do maybe with a DS in each hand - just kidding.
The on-screen instructions are very good - stepping you through single notes to chords and giving you ample time to practice before you hit Star Power. You can see why Star Power is such fun with its dazzling pyrotechnics - even on the DS. You start out with customizing your character - equal time is given for gals and guys, pick out your ax, your difficulty level and away you go. The game comes on for right handed people but I watched a lefty do just great with the mods available.
It's prettily simple at first - except for the pinky. You press the color button to match the one coming up on the screen - and there is fair amount of lead time. When the note comes to the target you have to strum the guitar with the pick. You can use the one provided that came with the game, or just the stylus. Holding down the button makes for long notes and scratching on the touch screen will give you a wammy effect. The guitar grip works with the older DS by using the small adapter.
You can play duets with another person who also has the game through local Wi-Fi. It comes with plug in earphones to improve the sound, but then you are the only one who can hear it. Levels area defined by location; subway, rooftop, a parade, a Greek amphitheatre, and a battleship. Activision says there are 26 songs but they are being cute about releasing the list - so far I have found only 19.
Do What You Want - OK Go
All The Small Things - Blink 182
Spiderwebs - No Doubt
Are You Gona Be My Girl - Jet
We're Not Gonna Take It - Twisted Sister
All Star - Smash Mouth
Breed - Nirvana
Jessie's Girl - Rick Springfield
Hit Me With Your Best Shot - Pat Benatar
This Love - Maroon 5
Heaven - Los Lonely Boys
Helicopter - Bloc Party
China Grove - The Doobie Brothers
Rock and Roll All Nite - KISS (cover by Line 6)
What I Want - Daughtry
Stray Cats - Stray Cats Strut
Pride and Joy - Stevie Vaughan
I Don't Want to Stop - Ozzy Osbourne
Incubus - Anna Molly

Fun Factor: It's a fun toy.
Female Factor: Equal time for the guys and gals.
Player Friendly: Saves are automatic and I con only hope cumulative. Grip might not work for small hands.
Reviewed by: Editor - 08/08
Guitar Hero on Tour DS
&copy Activision/red octane
Platform(s): GBDS
To Order: GBDS http://www.amazon.com/ $49.99