---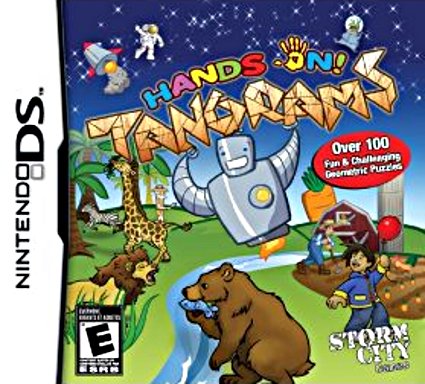 Hands On! Tangrams
Ages: Everyone

Tangrams, known as "Chinese Moving Puzzles", consist of 7 geometric pieces: 5 right triangles, 2 large, 1 medium, 2 small, a square and a rhomboid. From just these 7 pieces, innumerable numbers of figures can be made. In this games they come from land, sea and space - 100 of them and when you solve the puzzle - they transform into colored images.
I remember moving cardboard pieces by hand, and since precise placement was important, any slight movement could upset the arrangement. Here, placement on the DS screen with the stylus makes it much easier and the game should really be called "Computer Assisted Tangrams". The puzzles look easy but are challenging, however with 100 of them you can become Tangram Master.

Fun Factor: Such a clever puzzle
Player Friendly: Saves on exiting. No manual.
Reviewed by: Editor - 11/09
Hands On! Tangrams
&copy Storm City Games
Platform(s): GBDSDS
To Order: DS http://www.amazon.com/ 14.99