---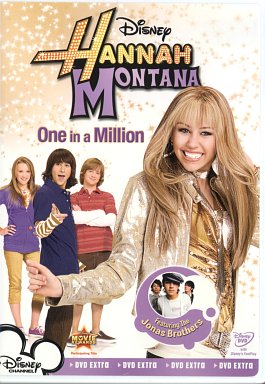 Hannah Montana – One in a Million
Ages: General Audiences

This is number four of the series on the double life of a regular teenager who moonlights as the hottie Hannah of the title. It touches a nerve of tweens – the accessibility of being an ordinary teen, the dream of being a rock star, living in a household without a mother but bolstered by a dad who is a cool songwriter/performer. So fans will buy this DVD regardless – which is what fans are supposed to do, but even they will cringe at the laugh track that follows every second sentence.
In Hannah Montana - One in a Million we find Miley/Hannah and Lilly trying to be matchmakers between their respective single parents so they can be real sisters. This gives plenty of opportunity for fights, friendships on and off again, embarrassment for the adults and some beach scenes with Rico - who has to be the second most annoying character in the series - first place goes to the International Relations teacher. Other episodes will have Miley getting jealous when her dad pays a lot of attention to the Jonas Brothers, Jake trying to renew a romance with Miley and a walk on with Dolly Parton who feels like the only real actress in this series.
In general, the acting is pitiful – the cast delivers their lines and turn to the screen for the laugh track. Hannah only blooms when she is onstage singing. More singing and less acting would have made a better number four.

Fun Factor: Sing more, act less
Female Factor: Miley's role is that of pretty good appealing teenager. Hannah of course, rocks.
Reviewed by: Editor - 03/08
Hannah Montana – One in a Million
&copy Disney
Platform(s): DVD
To Order: DVD http://www.amazon.com/ $13.99