---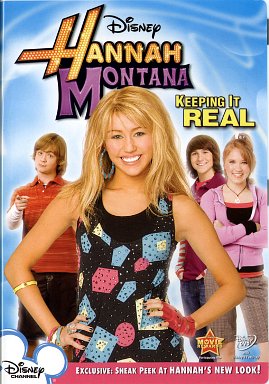 Hanna Montana Keeping it Real
Ages: General Audience

Five episodes from the Disney Channel Series actually feel like more, with the many minute snippets inserted between the episodes. The show has much going for it - the innate wholesomeness of the characters, the focus on what matters to the tween girls, the real life relationship between Miley Cyrus and her father Billy Ray - plus Hannah's real star quality. The episodes all have some lesson to impart - be yourself, be moderate and don't lie.
The Test of My Love Miley falls for a boy whose parents are small minded nasty snobs. In trying to impress them she lies about her father being a diplomat. Miley and boy come through with colors - the small minded nasty snobs - do not.
Don't Stop Till You Get the Phone Needing to have the latest phone prompts Miley into selling an embarrassing photo of herself to get the money to buy the phone. The complications are hilarious and Don Johnson is a good sport putting up with Lucy and Milie's antics.
We're All on This Date Together On an auction date for charity, Hannah is delighted to get Corbin Bleu bidding for her. Unfortunately Rico manages to wheedle himself along - a three point disaster.
Yet Another Side of Me Afraid that she's going to lose her popularity unless she reinvents her show Hannah goes through a number of dress-overs and character changes, finding out that she is best being who she is.
Ready, Set, Don't Drive - the bonus episode. Throwing out a disgusting driving inspector, Miley now has to wait two weeks to re-take the test. But in a competitive go-round with her crowd she implies that she already has her license. She does get one using the Hannah identity but is pulled over driving as Miley. Breaking rules in this show is a no-no.
The disk is a little short on the Bonus features. There is the extra episode with Miley getting her driver's license and a trip into the wardrobe room with Miley dressing up and down.
The whole team works well together and particularly so with Emily Osment and Miley, who have evolved into a winsome comic duo. I was annoyed with the lack of credits. I looked up the information and here it is.
Father: Robbie Stewart (Billy Ray Cyrus)
Brother: Jason Earles (Jackson)
Rico: Moises Arias - (beach concessionaire)
Lilly: Emily Osment

Fun Factor: The series is good
Female Factor: Miley/Hannah an excellent concept. Both sides are real and engaging
Reviewed by: Editor - 03/09
Hanna Montana Keeping it Real
&copy Disney Studios
Platform(s): DVD
To Order: DVD http://www.amazon.com/ $13.99