---
---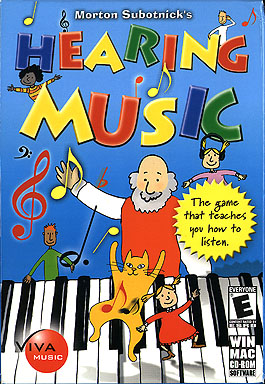 Hearing Music
Ages: Everyone -- Kids

"Morton Subotnick is one of the United States' premier composers of electronic music and an innovator in works involving instruments and other media, including interactive computer music systems. In addition to music in the electronic medium, Subotnick has written for symphony orchestra, chamber ensembles, theater and multimedia productions". Just so you know you and your kids are in good hands.
Hearing music, with some awareness as to what is going on increases listening pleasure. This is exactly what this game works on. The game guides the player into hearing the composition of music. It covers multiple ways to accomplish this -- comparing musical phrases, matching musical phrases, reading musical notations and ordering musical phrases into a larger piece. This last one is done by placing riders with musical segments onto a train -- I enjoyed this one for quite awhile. There are four different levels -- enough to give anyone a good run for their money. For parents there is a separate assessment section. The graphics are simple and sufficient for the music lessons. The look indicates that it is designed for young children and for best results should be started with an accompanying adult.
The music is classical, and my only complaint is that the selections are not listed. I thought that I could find them on the web site but it was no longer functioning. We need more games like this for young children -- simple, with no hype for TV characters. Viva Media seems to be doing this. There is another title Making Music also by Subotnick.
Reviewed by: Editor - 10/04
Hearing Music is basically trying to teach people about understanding music. There are different games. There are games to put music in the right order, games where there are pictures of notes and you listen to something and guess which one is right and more. I think I am too old for this game, and I didn't like it that much. Whenever you win one of the games the people start singing Hallelujah and dance around the screen. It's kind of weird. The people look sort of like drawings, and they probably are. Once I played it for the first time I didn't want to play it again.
Raina 9
The point of the game is to listen to music. My favorite game is comparing, because I enjoy listening to the music and deciding if it is different or the same. All the games are fun except the reading. One of the games was kind of hard. I'd try to play it as much as I can. Nothing really impressed me. I really love the lively music. I think any age would like it. If I made Hearing Music; I wouldn't make it any differently.
Marnie 7
It is about listening to music. At first the woman explaining how to play kept talking and I couldn't stop her, but then I was able to. Nothing was really amazing about it, but it was still really great. I really liked the music because it has so many instruments. Any age can play though some people that aren't into music may not like it but if you like music you will probably like it. I would make the game so it had no reading notes game.
Lauren 7
Reviewed by: Raina, Marnie and Lauren - 06/05
Hearing Music
&copy Viva Media $24.99
W95 W98 Me XP 2000 MAC OSX
To Order: Win http://www.amazon.com
To Order: Mac http://www.amazon.com