---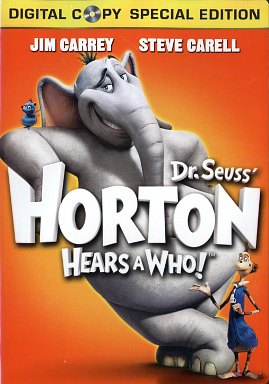 Horton Hears a Who
Ages: General Audience

The poetic cadence of the Green Eggs and Ham man has been imprinted on my mind after two generations of kids and so I was pleased to hear it in the Jim Carrey's voice over. The DVD is more frenetic and longer than the story but the artists have captured the essence.
A speck of dust settles atop a clover flower and Horton, with his immense ears hears a voice and soon begins the communication between him and the Mayor of Who-ville. Neither character is believed in his homeland. Horton gets the worst of this with the Kangaroo lady (Carol Burnet) siccing Vlad the Vulture to hound him and destroy the clover flower and finally, when he won't recant, inprisonment. The citizens of Who-ville, with the Mayor's prompting plus a little help from his son, finally get through with. "We are here" and the day is saved.
Lots of lessons here - believing what you can't see, you are important regardless how small you are, forgiviness, and "I meant what I said and I said what I meant, an elephant is faithful 100 per cent".
The graphics are lush and inventive, going from the dense green jungle to the quirky Who-ville. Lots of extras including a short, Ice Age, Surviving Sid staring Sid - who I believe is a prehistoric critter of questionable lineage; interesting information on elephants; and always my favorite, a section on making the movie - "Bringing Seuss to the Screen" .
The second DVD is a digital copy for your very own portable media player.

Fun Factor: Kids will love the animated Seuss
Female Factor: Zip except for nasty opinionated, narrow minded Kangaroo
Reviewed by: Editor - 12/08
Horton Hears a Who
&copy Twentieth Century Fox
Platform(s): DVD
To Order: DVD http://www.amazon.com/ $22.99