---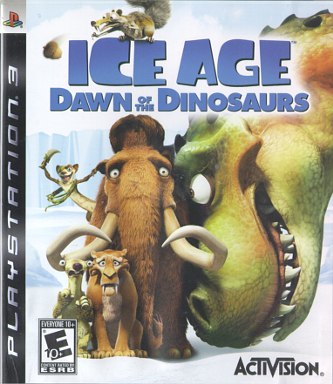 Ice Age: Dawn of the Dinosaurs
Ages: Everyone

If the kids enjoyed the movie - and want to re-live the experience - it's the console version that you should be getting. It is here you will find the characters in their crisp colorful graphics and recognizable voices; Sid the sloth, who is anything but, Crash and Eddie the two possum brothers, and Manny and Ellie the wooly mammoth pair who are soon to have a baby wooly mammoth.
It is Sid who does the fetching for crystals, fixes up the playground slides and slips his way through the ice region. The game is clearly made for children. Sid's spinning attack is nicely effective against spiders and morhogs. When throwing snowballs or mudballs you don't have to be exactly on target - the system is very forgiving. The developers kept their eyes on making the game fun and avoiding frustration.
The game follows the movie from icy caves to steaming lush jungles and adds a few new characters - Buck the one-eyed weasel, Diego the saber-toothed tiger, Scrat the saber-toothed squirrel, pterodactyls and T-rex and the amusing episode of the dinosaur's eggs.
Games made from movies too often rely on cut scenes to evoke the experience of the movie. In this case, the developers brought the art, the music, the humor and the story and added a bit of gaming essence to make a totally enjoyable experience.

Fun Factor: A fun reprise of the movie
Reviewed by: Editor - 08/09
Ice Age: Dawn of the Dinosaurs
&copy Activision
Platform(s): PlayStation3 PS3
To Order: PS3 http://www.amazon.com/ $39.97