---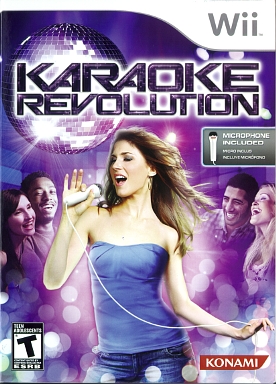 Karaoke Revolution
Ages: Teen

Let karaoke be karaoke. This new "Revolution" focuses more of the fun part of the experience - designing your avatar; fine tuning your adjustments - all you have the patience for - loudness, calibrating the TV and microphone, adjusting the target of the sync sound, even down to button color; and singing solo, competitively or just listening. Singing is now more fun without being paralyzed with the lyrics hitting the target spot. Now an arrow rides along the "note tubes" for pitch and when your attack is right on - it lights up.
There literally billions of avatar modifications, from the slightest tweak of the eyebrow to the whole body type, including age and weight. It's better than most dress-up, clothing design games I've seen. You can start with one of 12 avatars to modify or make completely new ones. The choices cover the range of songs offered; funky punk, lone star, pop diva, street dancer, rock chick and goth girl to name a few.
There are fifty master tracks - see below. Some complain that on the Wii there is no online option, but then there are nice in-game controls with the remote. And - it takes up to four microphones.
| | |
| --- | --- |
| 7 Things - Miley Cyrus | 99 Times - Kate Voegele |
| A Labio Dulce - Iskander | ABC - Jackson 5 |
| Addicted to Love - Robert Palmer | Ain't No Stopping Us Now - McFadden & Whitehead |
| American Boy - Estelle feat. Kanye West | Beautiful - Akon feat. Colby O'Donis & Kardinal Offishall |
| Ben - Michael Jackson | Black Horse & The Cherry Tree - KT Tunstall |
| Burning Down The House - Talking Heads | Crazy - Seal |
| Da Ya Think I'm Sexy? - Rod Stewart | Dancing Machine - Jackson 5 |
| Disturbia - Rihanna | Enamorada - Miranda |
| Feels Like Tonight - Daughtry | Gives You Hell - All American Rejects |
| Human - The Killers | I Kissed A Girl - Katy Perry |
| I Melt With You - Modern English | I Ran - A Flock Of Seagulls |
| I Want You Back - Jackson 5 | I'll Be There - Jackson 5 |
| I'm Yours - Jason Mraz | Just Dance - Lady Gaga feat. Colby O'Donis |
| Love Hurts - Incubus | Love Is A Battlefield - Pat Benatar |
| Love Story - Taylor Swift | Man On The Moon - R.E.M. |
| My Life Would Suck Without You - Kelly Clarkson | No Me Doy Por Vencido - Luis Fonsi |
| Pocketful of Sunshine - Natasha Beadingfield | Rehab - Amy Winehouse |
| Ser O Parecer - RBD | Sex On Fire - Kings Of Leon |
| Shout - Tears for Fears | Si Me Besas - Lola |
| Smile - Lily Allen | So What - P!nk |
| Solid - Ashford & Simpson | Soul Meets Body - Death Cab For Cutie |
| Space Oddity - David Bowie | The Logical Song - Supertramp |
| This Love - Maroon 5 | Viva la Vida - Coldplay |
| What Have I Done To Deserve This - Pet Shop Boys & Dusty Springfield | What Hurts the Most - Rascal Flatts |
| Wicked Game - Chris Isaak | You Found Me - The Fray |

Fun Factor: More fun if you listen and practice first
Female Factor: Plenty of females
Player Friendly: Manual is minimal - information is in-game
Reviewed by: Editor - 02/10
Karaoke Revolution
&copy Konami $
Platform(s): Wii
To Order: Win http://www.amazon.com/ $45.99