---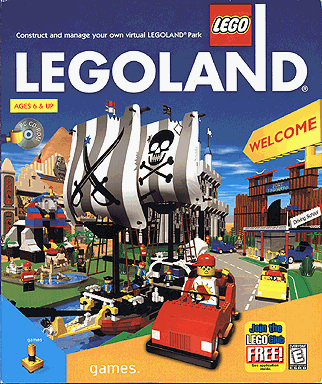 Legoland

This is a simpler variant of the Theme Park type games, in that it is easier to make a successful park - that is, if you get through the introductory training which starts with a Western theme. With all the interesting attractions available - one wants to jump into it and build. But, "Oh no!" - first you have to get through the beginning lesson. Bummer.
Jonathan Ablebody (Busybody is the name that comes to mind) prompts the player to add more plants, put in more gardeners, build more power plants. If the suggestion is place 10 trees - you need to place exatly 10 trees to be allowed to continue. Once you get through the 'lesson" you can go on to build in the other themes - Pirate, Adventure and Castle. Of course there is a rollercoaster, a pirate's ship, a driving school (no bumper cars here) and mini cities.
All the joint lines have been smoothed and the attractions are already pre built. The layout follows the familiar Lego grid base plates. The characters are animated and softened in an engaging way with clever names and their own personalities.
They have included a bypass called Freeplay which allows a limited selection from all the themes, but to access them all, you have to play by the rules. It's a little like having to eat dinner before having dessert. The game philosophy is too rigid an preachy for the American audience.
Editor Review 9/00
Legoland
&copy Lego Media Interactive 2000 $24.99
Windows 95/98
To Order: http://www.amazon.com